Top 3 used estate cars for £10,000
"Dear CarBuyer, I want a good family estate car for a budget of £10,000 - what do you recommend?"
The estate car continues to maintain a loyal following among UK buyers, despite the SUV dominating the sales charts. With several new models arriving this year and a range of used estate cars on the market, there's still great choice.
While the increased dimensions of an estate car mean they're slightly heavier than a hatchback, they typically share the same platform and engine range, meaning performance and fuel economy rarely suffers significantly. Most are also very similar to drive when compared with hatchbacks too.
Best estate cars to buy this year
The Peugeot 308 SW is an estate that offers 660 litres of luggage space - the most in its class. Renault offers the Megane Sport Tourer, while the Toyota Corolla Touring Sports estate is one of the few hybrid load-luggers on offer. German manufacturers continue to offer estate versions of their best-selling hatchbacks as well, and the latest Volkswagen Golf Estate and SEAT Leon ST are scheduled to arrive later this year.
Our reader is looking to buy a capable family estate car for a budget of £10,000. We've picked three similar sized used estate models, all of which are all well-equipped, offer similar performance to their hatchback counterparts, and have a vast amount of luggage space.
The practical choice: Skoda Octavia Estate
For: great practicality, efficient, good equipmentAgainst: conservative design, some cheap cabin plastics
If you're after a practical family estate, the Skoda Octavia is the go-to choice, because it has all the bases covered. its spacious, well equipped, comfortable, fuel-efficient and, if you can find a range-topping vRS model, quick enough to worry most hot hatchbacks.
There are plenty of late-model third-generation Octavia estates for sale for £10k. we found a 2017 109bhp 1.6-litre diesel SE Technology, with 68,000 miles, for £9,000. if you're happy sacrificing age for performance, the same money bags a 2014 diesel vRS with 55,500 mile.
Facelifted third-generation Octavia estates came as standard with alloy wheels, climate control, an eight-speaker stereo and an eight-inch infotainment screen. The Octavia has the largest boot here, with a maximum capacity of 1,740 litres.
Skoda offered a broad range of engines in the Octavia. The 138bhp 1.4 tsi four-cylinder petrol is a punchy unit that will go from 0-62mph in just over eight seconds, but diesel models are far more common. The 148bhp 2.0-litre TDI offers similar performance, but with 50mpg-plus economy.
The driver's choice: Ford Focus Estate
For: neat styling, fun to drive, reasonably pricedAgainst: dated dashboard, not the most spacious
This third-generation Focus estate is a stalwart of business fleets across the country – and it offers strong value, too, with a wealth of low-mileage, reasonably specced examples littering the market. it doesn't have the outright carrying capacity of the Skoda, but it's more engaging to drive, and arguably more stylish.
We found 10 2017 examples, all with less than 50,000 miles on the clock, priced at around £10,000. a 1.5-litre Zetec model from 2016 stood out from the pack, though, because it had only covered 15,000 miles from new.
Like the Skoda, the last Focus estate was available with an eight-inch infotainment system – but some versions make do with a 4.2-inch display. The rest of the Focus's interior is well built, albeit with a busier design than the octavia's.
The Focus is the sharpest car here, with handling that's almost indistinguishable from the hatchback's. it can be fast, too; the 247bhp 2.0-litre st (in budget on a 13-plate) will hit 0-62mph in around 6.5 seconds, and the 180bhp 1.5-litre petrol will do the same sprint in 8.8 seconds.
The newest choice: Hyundai i30 Tourer
For: good value, comfortable, newest model hereAgainst: so-so handling, limited engine range
The second-generation i30 tourer makes up for its slightly lacklustre driving experience with a huge amount of equipment; even base models come with cruise control and autonomous emergency braking, while the interior is light years ahead of its predecessor's.
Another advantage of opting for the i30 is that – unlike the Ford or Skoda – you'll be getting a current-generation model. We found a couple of low-mileage petrol cars from 2018, both priced at around £10,000, while higher mileage but better equipped 2017 examples cost less than £9,000.
Hyundai loaded the i30 with technology. Mid-range se nav trim features parking sensors, a reversing camera, automatic headlamps and an eight-inch touchscreen. The Tourer also has a decent-sized boot, with a maximum capacity of 1,650 litres.
It may be the least engaging car here, but the i30's comfortable suspension and gutsy diesel mean it's suited to motorway driving. Hyundai's 134bhp 1.6-litre four-cylinder is capable of returning fuel economy of up to 65.7mpg – and there's a healthy 300nm on offer, making it ideal for carrying passengers or luggage.
Carbuyer's choice, as picked by deputy editor Ben Hodges - Skoda Octavia Estate
All of our used estate car picks are very capable cars but I'd go for the Octavia Estate. It's the most practical of the three, with a decent choice of frugal diesel engines and an excellent list of standard equipment.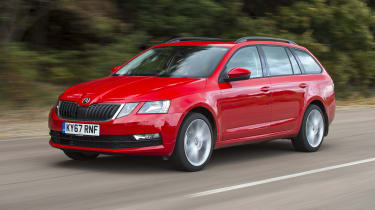 While the Octavia does fall short of the Focus Estate when it comes to the driving experience, its ability to accommodate an entire family plus the dog is unbeatable; it has the biggest boot and more space for rear passengers. While the petrol and diesel engine line-up isn't hugely exciting, the engines are relatively cheap to run and maintain, and they're refined on longer journeys. Add to this that every Octavia is well-equipped and the interior is smart and solidly built, and you have a great all-rounder.
To read our picks for the best family cars to buy, read our top 10 here.