BMW 3 Series GT hatchback (2013-2019) - Practicality & boot space
The BMW 3 Series GT has a bigger boot than the 3 Series Touring estate
Most people will choose the 3 Series GT because of the added practicality it offers compared to the BMW 3 Series saloon. This is thanks to its bigger, more flexible boot and additional rear legroom. Even if you don't need the extra space, the GT feels more luxurious inside and the raised seats make it easier to get in and out of.
BMW 3 Series GT interior space & storage
While the latest version of the 3 Series saloon is the biggest yet, the GT offers even more passenger space. Rear legroom has increased by 8cm, meaning the GT actually has more space in the back than the larger BMW 5 Series saloon. The back seat reclines a few degrees and is wide enough to accommodate three adults, but the middle-seat passenger will be the worst off – their raised seat means there's less headroom and the transmission tunnel eats into footroom. The optional panoramic sunroof cuts into headroom even further.
Cubbyhole storage is the same as you get in the saloon, so there's a large glovebox, decent-sized door bins and a pair of cup-holders in the centre console. There are also map pockets in the backs of the front seats and ISOFIX child-seat mounts are standard on all models.
Boot space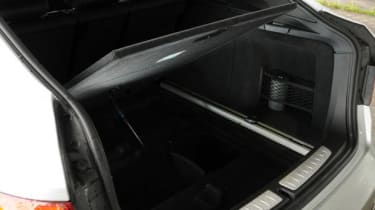 The GT's 520-litre boot is not only 40 litres bigger than the saloon's, but also 25 litres bigger than the boot in the 3 Series Touring estate. The huge bootlid means it's easy to fit awkward items into the car and it's also power-operated – so there's no need to yank it up or down when you're carrying shopping. The rear seats fold quickly at the pull of a lever and there are plenty of fastening points for loose loads. A 1,600-litre capacity with the rear seats lowered is a full 300 litres bigger than what's offered by the Audi A5 Sportback – the GT's main rival.
Towing
The 330d, 335d and 340i GT make the strongest tow cars in the 3 Series GT range – all can pull a maximum load of 1,800kg.