What is cross traffic alert?
We explain what cross traffic alert is and how it keeps you safe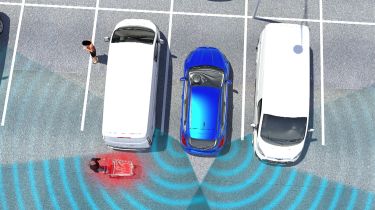 Driving can be dangerous at the best of times, even with all of the modern advancements in safety technology. Having a good view of the road is important, as this can be the difference between hitting or avoiding a potential obstacle. Unfortunately, it's not always easy to see what is around the corner and this means it can sometimes be almost impossible to avoid an accident, even with a quick reaction time.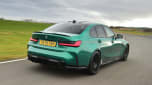 UK drivers prioritise style over safety, new report finds
Thankfully, a relatively new car safety feature aims to solve this issue. 'Cross Traffic Alert' is a function available on most blind spot monitoring systems that is designed to detect vehicles or other road users that are approaching perpendicularly as you reverse out of a parking space, or pull out at a junction. It can then alert the driver and, if necessary, intervene to prevent a collision. But how does it work?
How does cross traffic alert work?
Cross traffic alert makes use of the same technology as found in many blind spot monitoring systems. Radar sensors on the car's bumpers are able to detect approaching vehicles - even through solid objects such as parked cars and walls. Just like with a blind spot monitoring system, if and when an incoming vehicle is detected, the driver will be notified via a warning light on the dashboard, the infotainment screen or the side mirrors.
Yet, while all cross traffic alert systems may appear similar at face value, there are some distinct differences. 'Rear Cross Traffic Alert' systems are designed to act as an extra pair of eyes when backing out of a parking space.
This can alert the driver if another vehicle is coming to avoid a reverse collision. For example, Kia's 'Rear Cross-Traffic Collision Warning' can detect whether an oncoming vehicle is travelling more than 3mph. If this is the case, the driver will be alerted by a light on the mirror on the same side that the vehicle is approaching from. Failing that, the system will also activate a warning chime and will vibrate the steering wheel. If, after those warnings the driver still fails to stop, the car can then take control by applying the brakes and preventing a crash.
Further pushing the boundaries of this technology, 'Front Cross Traffic Alert' systems are available on some high-end luxury cars such as the Lexus LS. These systems can scan the road ahead as you approach a junction where visibility is impeded, and warn the driver of any intersecting traffic that may be waiting. This can be via a warning chime or even an icon on the car's heads-up display (HUD). 
Is cross traffic alert worth it?
Cross traffic alert can be a great safety net for drivers when out on the roads. Although these systems can be easy to rely on at times, it is important to remember that they are not completely failsafe. Be sure to remain vigilant to your surroundings and use these functions as a back-up, rather than as a direct replacement for due care and attention.
When specifying a new car, cross traffic alert is typically bundled with blind spot monitoring, and can be chosen as an individual option or as part of a wider safety package. While blind spot monitoring with rear cross traffic alert can set you back around £500, expect to pay much more for a full safety package. For example, on the BMW 5 Series, the brand's 'Crossing Traffic Warning' system is only available as part of the £2,000 'Driving Assistant Professional' package.
Partnership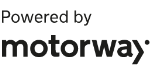 Need to sell your car?
Find your best offer from over 5,000+ dealers. It's that easy.
Therefore, whether we'd recommend this feature is highly dependent on your personal situation. If it is within your budget and you spend a lot of time reversing in and out of tight car parks, then cross traffic alert could prove invaluable and potentially save you from having a nasty accident. 
However, for many it'd be foolish to fork out thousands for a drivers' assistance package as, sometimes, a little bit of extra care and cautiousness can be just as effective.
Want a car that will protect you and your family? Check out our list of the top 10 safest cars you can buy
Car safety made simple