Citroën C5 Tourer estate (2008-2016) - Reliability & safety
Reliability still isn't up to German manufacturers' standards, but the Citroen C5 Tourer is better built than the car it replaced
Citroen's original advertising campaign for the C5 proclaimed German levels of quality, and the car certainly made some big improvements over the car it replaced in terms of build quality. It did relatively well in 2014, but suffered a dip in the 2015 survey.
Citroen C5 Tourer reliability
The C5 performed well in the 2014 Driver Power survey, coming 39th out of 150 cars, however this slipped to 112th place out of 200 in the 2015 survey.
A number of owners have suffered electrical and mechanical niggles with the car, despite it seeming like a more solid product. The C5 has also been subject to a few recalls in its lifetime – three were issued in 2009 alone.
However, Citroen as a brand is improving. It came 26th out of 33 manufacturers in 2014, but moved up to 20th place in the 2015 survey. Owners cite build quality, performance, road handling and ease of driving as areas for improvement.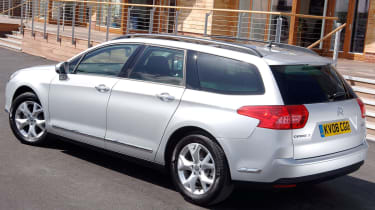 Citroen C5 Tourer safety
When it comes to safety, the C5 is a strong performer, securing the maximum five-star rating in the Euro NCAP crash tests, although it was evaluated back in 2009 when the test criteria wasn't as tough as they are now.
Newer models – such as the Volkswagen Passat – offer advanced safety features that are not available on the C5, including automatic emergency braking and active cruise control, which can match the speed of the car in front and maintain a safe distance from it. Citroen also doesn't fit an equivalent of VW's braking system that applies the brakes after a smash to limit the chances of the car being involved in a secondary accident.
On the plus side, all C5s come with equipment such as multiple airbags and electronic stability control. Also standard is Citroen's Smart Traction Control, which the firm says can cope better with snow and ice than a normal system. Although there is the caveat that it works best with winter tyres fitted to the car.