UK Hyundai Ioniq 5 N pricing announced, starting from £65k
The Ioniq 5 N gets 641bhp in a bid to be the ultimate enthusiast's EV, and we've had a chance to drive the latest prototype
Up to 641bhp with N Grin Boost engaged
0-62mph in 3.4 seconds
Priced from £65,000 in the UK
After months of teasers and spy shots, the Hyundai Ioniq 5 N performance EV has finally gone on sale in the UK, costing from £65,000 – the highest price tag of any N performance model so far. It's the brand's first fully-fledged hot EV, with a top speed of more than 161mph, and the first customers should receive their cars early next year.
We've already had a chance to test the Ioniq 5 N prototype around the Nurburgring, so read on below for our early driving impressions. As the EV market grows, manufacturers are keen to show the fun side of driving will remain in the electric world, and the Hyundai Ioniq 5 N is a clear statement of that, turning one of Carbuyer's favourite electric cars into a giant-slaying hot hatch.
New Hyundai Ioniq 5 N performance, 0-62mph, charging
Hyundai has been tight-lipped about performance figures, but has now announced the Ioniq 5 N's dual electric motors will give it up to 641bhp in 'N Grin Boost' mode, which is a temporary boost in power limited to 10-second-long uses.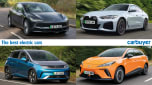 Top 10 best electric cars 2023
With 'N Launch Control' engaged, this can propel the Ioniq 5 N from 0-62mph in just 3.4 seconds, virtually matching the acceleration figure posted by the Tesla Model 3 Performance. The Hyundai will also carry on to a top speed of 161mph – the standard Ioniq 5 is limited to 114mph.
The 5 N is powered by a new 84kWh battery, with charging speeds peaking at 350kW, for a top-up from 10% to 80% in as little as 18 minutes when using a compatible public rapid charger. Hyundai is yet to reveal the car's driving range, however, so we don't yet know how it will compare with the standard all-wheel-drive car's 282 miles between charges.
The Ioniq 5 N is also getting a special 'N Battery Pre-conditioning' mode which works to boost performance via a new cooling system for the battery. In 'Drag' mode it maintains the cells' temperature at between 30 and 40 degrees Celsius for better power delivery, while it's cooled further in 'Track' mode to improve range and keep you lapping. In the 'N Race' driving mode the driver can choose between various other driving modes, such as 'Sprint' and 'Endurance' depending on the type of track you'll be tackling.
The Ioniq 5 N isn't just about acceleration, it's also fitted with innovative chassis technology, including Hyundai's 'N Drift Optimiser' – a driving mode intended for drivers of all skill levels. It can monitor each wheel's grip level and adjust power from its motors to where it's needed, as well as altering the suspension's stiffness. This system is also claimed to make the car's cornering more responsive and accurate at high speeds on a circuit.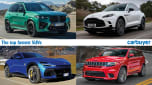 The top 8 fastest SUVs 2023
Then there's 'N e-shift', which uses clever software programming to mimic the feel of a combustion engine and eight-speed dual-clutch automatic gearbox as you accelerate and decelerate. There are even simulated jolts, which will likely be especially pronounced if you take control using the steering-wheel mounted paddles and change through the virtual gears. 
Partnership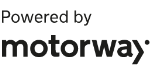 Need to sell your car?
Find your best offer from over 5,000+ dealers. It's that easy.
Regenerative braking tech is also tailored to give a greater sense of engine braking when lifting off the throttle, as would be felt in a petrol model, with a new system called 'N Pedal'. This can create up to 0.6g of deceleration alone, which should also reduce brake fade for the 400mm physical front disc brakes according to Hyundai.
The N Active Sound + feature aims to solve the problem of the relatively unexciting silence of electric motors; this will play synthesised engine sounds (or a more futuristic soundtrack) through the car's internal speakers in order to give the driver more feedback – similar to the AMG Performance Sound mode in the new Mercedes EQE 53.
Design and pricing
The Ioniq 5 N's styling will also help it stand out, thanks to 21-inch wheels housing bigger brakes, a deeper chin spoiler and additional ducting in the front bumper covered by mesh grilles. A rear spoiler extends from the back window and there's even a rear bumper diffuser that has increased the overall length of the car by 80mm.
There are plenty of N-branded changes inside the cabin, including bucket seats with illuminated logos, a new sports steering wheel, different sill plates and sports pedals. Hyundai has also used a chequered-flag graphic around both the interior and exterior to emphasise the 5 N's track performance.
With pricing from £65,000, this will pit it against rivals including the Tesla Model 3 Performance, BMW i4 M50 and Polestar 2 Long Range Dual Motor, while the smaller and cheaper Cupra Born and MG4 XPower offer more affordable electric hot hatch thrills.
Hyundai Ioniq 5 N prototype review – Sean Carson
We drove a prototype version of the Ioniq 5 N at the Nurburgring GP circuit to get an idea of how the model is shaping up.
As we stepped into the Ioniq 5 N we noticed a few features differentiating it from the standard Ioniq 5, such as sports bucket seats which will make the production version. As supportive as they are, we wished the driving position was a little lower, although this is something that's hard to change given the position of the car's batteries in the floor space. Happily, though, the seats are still cushioned well enough that they'd be comfortable for longer road journeys as well as keeping you in place when whipping around a racetrack.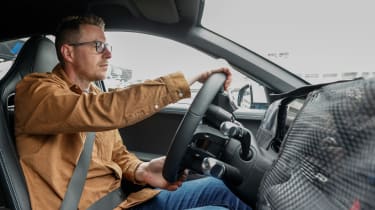 Upon setting off, it was very clear that the Ioniq 5 N is designed with fun at the forefront, with the clever N e-shift system simulating the sensation of an eight-speed automatic gearbox, despite the EV's single forward speed. With the system activated, the motors give the car a jolt like in a combustion-engined car as it changes gear, providing a greater feeling of engagement. This can also be deactivated, giving the same smooth feel of a traditional electric car.
There's also an N Active Sound+ system to simulate one of three engine sounds through the car's stereo – these comprise 'Ignition', which emulates a sporty four-cylinder turbo engine like you'd find in a traditional petrol hot hatch, 'Evolution', which is more of a progressive hum, and 'Supersonic' which gives the car a spaceship-like noise. While we like the idea, the latter two modes were not to our tastes – fortunately, we're told the sound of the Ioniq 5 N is the focus of much of the car's final development, so it could improve for the production model.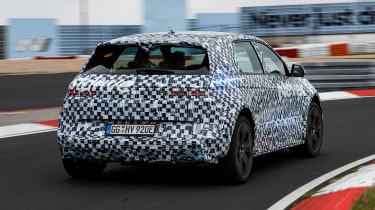 The regenerative braking system is designed to give a greater feeling of engine braking as experienced in a petrol car, and uses a combination of motor regen and friction braking, which felt well managed on our drive. We did find that the nose of the car rebounded and rose quite quickly when letting off the brakes, but this could be mitigated by adjusting your driving style.
While the steering is sharp, it doesn't offer much in the way of feedback. The Ioniq 5 N is a heavy car, and yet toggling the suspension to its sportiest setting does a good job of keeping it composed. A clever torque vectoring system also helps keep the car nimble through corners, although through fast uphill bends its weight is more apparent – the Ioniq 5 N feels at its best in slow to mid-speed corners.
Its Sport+ setting feels expectedly firm on the open road, but put the car into its default setting and it's more fluid, doing a much better job at absorbing imperfections in the road and giving a good level of comfort. 
Verdict
While development is still underway for the final production model, the Hyundai Ioniq 5 N is shaping up to be an impressive hot electric car. This is helped by Hyundai sticking with an ethos of driving fun and engagement over merely serving up impressive on-paper performance stats – although these are equally impressive. The simulated soundtrack needs some improvement, but the car's artificial gear ratios are surprisingly convincing and effective.
Looking for something as fast as it is efficient? Check out our list of the top 10 best hybrid and electric sports cars