Fiat Tipo hatchback - MPG, running costs & CO2
The Fiat Tipo finally has modern and efficient engines that are on a par with those in rivals
Until recently, the Fiat Tipo was lumbered with outdated engines that weren't as efficient as rivals'. Older cars came with a diesel engine that could just about manage 50mpg - whereas the Honda Civic and Ford Focus were claimed to return over 60mpg - and the petrol engine was similarly inefficient compared to the class leaders.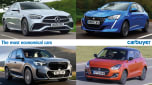 Top 9 most economical cars 2023
Now, though, a mild-hybrid petrol engine promises lower running costs, but its strong figures are wiped out by its high starting price; it's only available on the higher trim levels and it's still £5,000 more than the equivalent trim with the 1.0-litre petrol engine.
Fiat Tipo MPG & CO2
The base Tipo is a relatively light car so even the 1.0-litre petrol engine is up to the job. It's capable of up to 50.4mpg, while its CO2 emissions of 126g/km are decent enough. The company-car tax system means that the Tipo sits in a fairly high BiK band; we expect that many business users will pay less tax on a hybrid or electric car.
Fiat's new mild-hybrid petrol engine (shared with the Jeep Renegade) is more efficient, promising up to 54mpg and matching the Ford Focus EcoBoost. But make sure you get a good finance or lease deal, because upgrading to this engine is very expensive. Couple that with the Fiat Tipo's poor residual values, and it means that a mild-hybrid Volkswagen Golf is a little cheaper on a PCP finance deal than the roughly equivalent Tipo, despite costing more on paper.
The mild-hybrid sits in a slightly lower BiK band than the non-hybrid petrol, but its tax costs are still nothing to write home about. Mild-hybrid models are subject to the discounted VED (road tax) rate, which is £10 a year cheaper than the standard rate.
Insurance groups
The Tipo should be fairly cheap to insure, especially if you stick with the 1.0-litre petrol. In City Life trim, it sits in group 12 out of 50, although the mild-hybrid is in group 22 so your premiums may well be noticeably higher.
Warranty
All UK Fiats are covered by a three-year warranty, which has no mileage limit in the first two years, but continues for a third year as long as you don't exceed 100,000 miles. That's a more generous warranty than those offered by Ford, Vauxhall or any of the Volkswagen Group brands, but still some way behind the five-year/unlimited-mileage cover you get on a Hyundai, five-year/100,000-mile policy offered by Toyota or class-leading seven-year/100,000-mile cover you get with every Kia.
Servicing
Service plans are available over one to five years, each with 9,000-mile yearly limits. A one-year plan is £149, cover for three years is £519 and a five-year service plan is £999.