New Skoda vRS hot hatch could be a cut-price VW ID.2 GTI
Volkswagen ID.2-based supermini could spawn a hot vRS version, if Skoda can make a credible case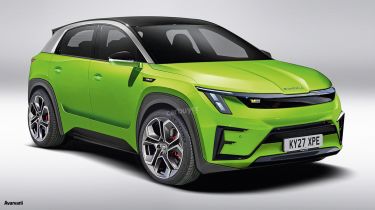 Affordable electric vRS model likely
Small crossover anticipated, based on Volkswagen iD.2
Sporty styling and extra power
Skoda has kept its sporty vRS badge alive in recent years on the Kodiaq SUV and Enyaq electric crossover, but there hasn't been much to entice customers lower down the market, as the old Fabia vRS once did.
That could soon change, as Skoda boss Klaus Zellmer has hinted that vRS models are still part of the brand's future – including Skoda's version of VW's upcoming compact ID.2 GTI.
"Of course we are contemplating doing that," Zellmer told our sister title, Auto Express, adding that the RS brand – as vRS is called in all markets outside the UK, where Ford has the RS trademark – would be considered on all Skoda's future models.
"If the technology is good enough to call it an RS, then there's a high likelihood of us bringing an RS version" said Zellmer.
While Volkswagen's ID.2 will take the shape of a Polo-style compact hatchback, Skoda's entry-level EV is instead more likely to be a compact crossover, similar to the existing Kamiq. Our rendering shows how a vRS version might look, incorporating sporty details and brightly-coloured paintwork, much like the larger Enyaq iV vRS.
"It's important to stay truthful and credible to bring an RS," Zellmer said, so any future model would have to justify itself with "a little bit more power, a little bit sharper in terms of its appearance, [and a] different interior."
It should also be a lot cheaper than any current vRS model. The sportiest Enyaq starts at more than £50,000, the Kodiaq vRS at nearly £50,000, and even the popular fast family car, the Octavia vRS, is nearly £35,000.
In contrast, Zellmer says the non-vRS model of the upcoming compact car is targeting a 25,000 Euro price tag (around £22,000), so a sporty version should still be well under £30,000.
The small Skoda will be built alongside the ID.2, and its Spanish sibling, Cupra's UrbanRebel, at the latter's factory in Martorell, near Barcelona, and is expected to make its debut in 2025 – and if a vRS is on the way, we'd expect to spy it testing long before then.
Read our in-depth reviews of the Skoda Kodiaq vRS and Skoda Enyaq iV vRS