Used Land Rover Discovery review: 2016 to 2020 (Mk5) - Engines, drive and performance
Refined, brisk and comfortable, the Discovery 5 is equally at home in the city, countryside or motorway, and can serve as a family wagon or luxury limousine
While some car makers endeavour to make their large SUVs drive like sports cars, Land Rover has opted to simply let the Discovery 5 be comfortable, thanks to supple suspension and engines with an abundance of pulling power rather than outright power – long journeys, even on back roads, feel relaxing because you don't have to work hard to achieve a decent pace.
Brawny engines and compliant suspension serve the Discovery 5 well off-road, too – you need muscle not speed when you're out in the rough stuff, together with suspension that doesn't bounce you around.
What's the Land Rover Discovery 5 like to drive?
You sit high in the Discovery 5 and the view this affords of the road ahead and the world around you is one of the prime reasons people buy large SUVs. There's a safety benefit to being able to see further down the road than you can in a regular saloon or hatchback, and passengers appreciate the grandstand seating position, too.
Good soundproofing brings civility to the Discovery 5's cabin even when you're working the engine hard, while the air suspension that's standard across the range takes the sting out of the UK road system's chronic lumps and craters. The Land Rover rolls through corners a little more than the Audi Q7 or BMW X5, but unless you jump straight from one to the other you probably won't notice, or quite likely even care. Similarly, the Discovery 5's steering isn't as precise as its rivals', but not to a degree that makes much difference in everyday driving. In fact, because the whole demeanour of the car is more laid back, you don't feel the same compulsion to drive the Discovery 5 as aggressively as you might the sportier Audi or BMW.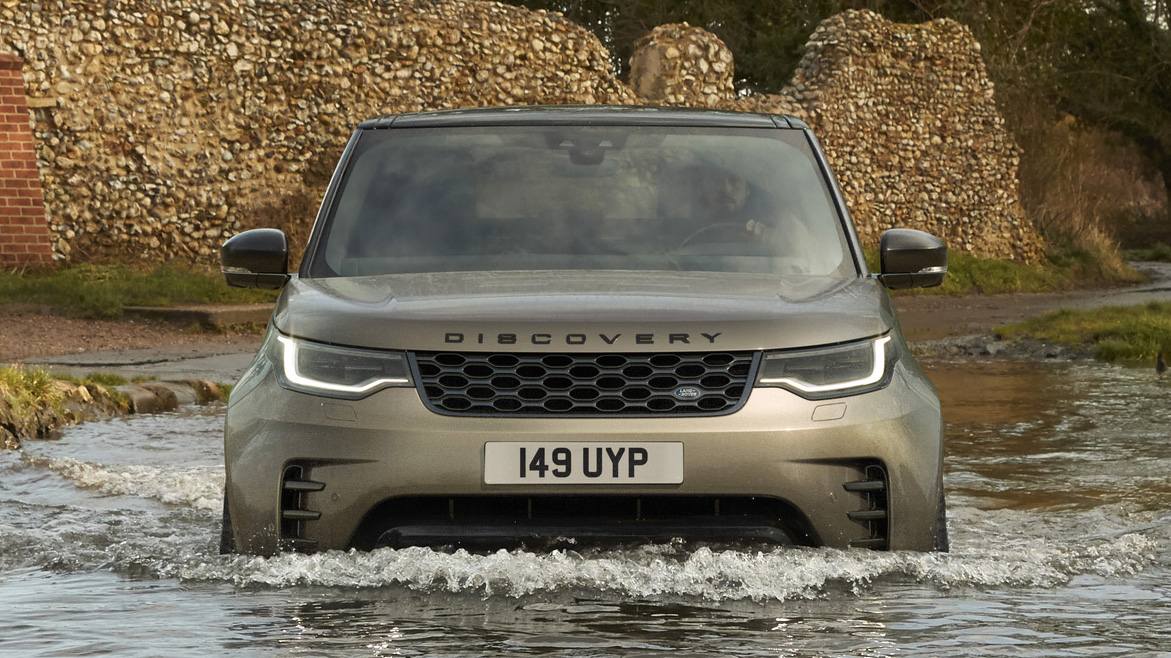 Top 10 best 4x4s to buy 2022
The more relaxed – and relaxing – nature of the Discovery 5 is what makes it so appealing as a family car or as chauffeur-driven executive transportation. 
Most owners will never venture off-road in their Discovery 5 – after all, it's an expensive car – but if you have a spare moment it's entertaining to google 'Land Rover Experience' and witness the sort of extreme terrain through which your car can travel. Should you then be tempted to do a little adventuring for yourself, the Discovery 5 makes off-roading a little easier for inexperienced drivers with its Terrain Response 2 system. Controlled by a rotating dial on the centre console, Terrain Response 2 is a series of pre-set conditions for the engine, gearbox, suspension and traction control systems, which change depending on whether you're driving through mud, sand, snow and rocks, or descending or ascending steep slopes.
What engine should I choose?
Even if all your driving comprises merely pottering about, you'll probably find that the performance of the 177bhp 2.0-litre turbocharged diesel Td4 is lacklustre. The 238bhp twin-turbo 2.0 Sd4 turbocharged diesel is a far better choice, more muscular between 30 and 80mph and therefore requiring less effort to keep pace with the traffic. Both engines' (WLTP) fuel consumption is pretty much the same, and while the Td4 will save you money in annual road tax, the extra performance of the Sd4, and how much nicer and easier that makes the driving experience, is worth the financial sacrifice.
Picking between the two 3.0-litre V6 diesel engines is harder. The Td6 has a single turbocharger and produces 254bhp together with 600Nm of torque – the latter is a measure of its pulling power which gives you clues as to the strength of its everyday performance, rather than its performance against the stopwatch. The Sd6 has two turbochargers, 302bhp and a whopping 700Nm of torque. Yes, you can certainly feel the difference between the two V6s, and yet with the less powerful engine there's never a sense that you've been short-changed in any way – both are refined, effortless and even sound the same. How much you can pick one up for will doubtless determine your choice.
The supercharged 3.0-litre V6 petrol engine in the 335bhp Si6 offers similar against-the-clock performance as the Sd6 – both reach 60mph from standstill in 7.1 seconds – but this is an engine that needs to be revved harder and doesn't have the same mid-range muscle as the gutsy diesel. It makes a great sound, though, but isn't so much in keeping with the overall character of the Discovery 5. Greater handicaps to its inclusion on your shortlist, however, are its sub-20mpg fuel consumption and £585 annual road tax.
Which leaves the 296bhp twin-turbo 2.0-litre four-cylinder engine found beneath the expansive bonnet of the Si4 as your pick of the petrol powerplants. Although it produces the least torque of the whole engine range (400Nm), in general driving it's adequately muscular, so as long as you don't need to tow anything large or carry anything really heavy. Would you choose it over our recommended diesel engines? No. Would you feel disappointed if it was the only engine you could afford? Also no.
Whatever engine you do end up buying, it will send its power and torque to all four wheels via a smooth-shifting eight-speed automatic gearbox.