Used Land Rover Discovery buying guide: 2009-2016 (Mk4)
The Mk4 Discovery brings added gloss and sophistication and is a much sought-after used SUV
The latest Land Rover Discovery is now a common sight on Britain's roads, but it'll be a long time before its predecessor comes close to disappearing. The Discovery 4 that the latest model replaced in 2016 had effectively been in production since 2003, but this guide will focus on those examples built from 2009 onwards, when the Discovery 4 name was adopted.
The Mk4 added a more sophisticated look, updated engines and greater comfort to the Discovery 3's proven formula, and buyers loved it. With so many improvements, many Discovery 3 owners upgraded to the later model, and the Discovery 4 is still extremely sought-after today.
The Discovery 4 starts at about £12,000 today; if you're working to a slightly lower budget the Mk3 is well worth considering, and this link will take you to our buying guide for that model. Meanwhile, read on for help on finding the right Land Rover Discovery 4 for you.
Land Rover Discovery 4 history
Representing a substantial update of the well proven Discovery 3, the Discovery 4 arrived in September 2009. It has a totally redesigned interior compared to its predecessor, as well as different external styling at the nose and tail.
The top diesel engine was a 3.0-litre TDV6, while the less expensive 2.7-litre was carried over from the Discovery 3. The 2.7 was replaced by the more powerful 3.0-litre SDV6 in 2011, with lower exhaust emissions partly thanks to its new eight-speed automatic gearbox. A 3.0-litre V6 was offered, too, but UK buyers were denied a petrol V8 engine this time.
A number of well equipped limited-edition models were offered, including the Landmark, Black & White, HSE Luxury, XXV and Graphite. Though nice to have, none of these are worth a great deal more than the regular HSE trim level.
Which is the best Land Rover Discovery 4 for me?
Since the Discovery 4 enjoyed gradual refinement throughout its life, it's good advice to choose the most recent example you can afford. Although really high-mileage cars can be temptingly priced, be wary of any lapses in maintenance; otherwise a car that's done more than about 12,000 miles a year isn't necessarily bad news.
There were no Discovery 4s with a manual gearbox, all had a six or eight-speed automatics. The 3.0-litre V6 petrol was a bit more economical than the previous V8 and not hugely less powerful, but the 3.0-litre diesels were far more popular and make up the majority of used examples on the market. Almost all have leather interiors and no version has a spartan feel. The SE has all the essentials including navigation, cruise control and heated seats, while the HSE offers near-Range Rover opulence.
The best-kept and best presented examples tend to be snapped up by Land Rover official dealers and independent specialists, but prices can still vary dramatically. Higher-mileage examples tend to surface in smaller-scale dealerships or in private sales. The earliest Discovery 4s start at around £12,000 with over 130,000 miles on the clock and the final examples of the breed still cost over £30,000.
Running costs, maintenance and parts
You'll need to service your Discovery 4 annually or at every 16,000 miles and the cost will vary depending on the work required. It's worth noting that the seventh service includes the cambelt on diesel cars, and this can take the bill well beyond £1,000. There's a large network of independent Land Rover specialists, though, and these will usually undercut official workshops on price.
What to look out for
The Mk4 Discovery is a little more robust than the Mk3 it was developed from, but can still be prone to electrical glitches. Systems such as the electric windows, central locking and rear wiper can fail, while sensor faults can affect the operation of the air-conditioning and air-suspension.
The latter can be quite costly to repair and air leaks and compressor faults are common. Ensure that any example you consider rises and falls evenly when the system is in operation.
Oil leaks are possible from the engine, gearbox and four-wheel-drive transfer cases, so check closely for signs of oil leaking from anywhere under the car. Dirt and grime underneath can cause problems, too; if it gets into the braking system it can cause the electronic parking brake to fail.
Recalls
June 2016 saw the most recent recalls for the Discovery 4; there were two in that month, relating to the risk of the engine cutting out unexpectedly and airbags not deploying. Before then, a number of recalls addressed faulty seat belts, braking problems, fuel leaks and brake servo failure.
Earlier recalls concerned the possibility of the panoramic roof panel detaching, dynamic stability control faults and wheel nuts breaking. Any official Land Rover workshop will be able to confirm whether your car has had necessary works performed.
Alternatives
The Discovery 4 may have effectively been a six-year-old design when it went on sale, but it still had the measure of most of its rivals on the road, and even more so off it. It could be argued that its most capable adversaries on the rough stuff, though, are the Mitsubishi Shogun and Toyota Land Cruiser Amazon.
Both are arguably more reliable than the Discovery, but to trump the Land Rover for style and prestige you need to turn to the Germans. The Audi Q7, BMW X5 have a great image but are even more expensive to run than the Discovery. The British car has more space in its third row of seats, too, and that criticism can also be levelled at the pricier Mercedes GL.
The Mercedes ML is available for the same outlay as the Discovery, but only has seats for five, and although the Volvo XC90 has (restricted) space for seven, it's very definitely a road-biased car and offers nothing like the versatility of the Land Rover.
Verdict
As you can see from the above, there are plenty of seven-seat SUVs out there and many of them are as affordable as the Discovery 4. Few of them offer the breadth of talent that the 'Disco' can boast, though. Its biggest weakness when it was new is that certain rivals were more entertaining to drive. Few can match it for long-haul comfort, though, and virtually nothing can touch it for practicality and off-road prowess.
For the used car buyer the biggest worry is that of neglect – maintenance skimped on by the previous owner can become costly to its next custodian. But as long as you make doubly sure that any car you consider has been properly looked after it should bring you years of pleasure and practicality, and all while looking rather posh.
Best cars for cyclists and bikes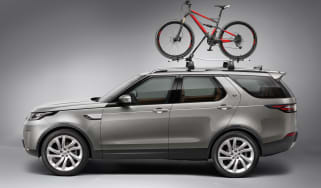 Best cars for cyclists and bikes
2020 Land Rover Discovery Sport gains new engines and tech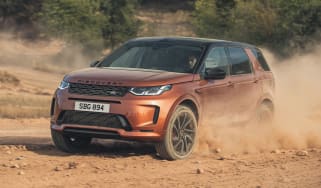 2020 Land Rover Discovery Sport gains new engines and tech
Updated Peugeot 5008 starts at £29,585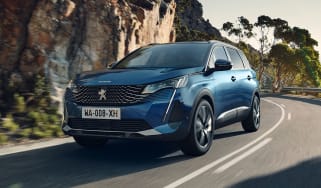 Updated Peugeot 5008 starts at £29,585
Cupra Formentor SUV review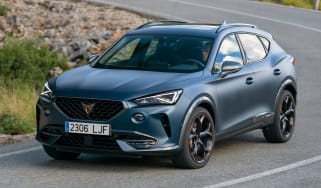 Cupra Formentor SUV review
2020 Volkswagen ID.3 hatchback: base model starts at under £30k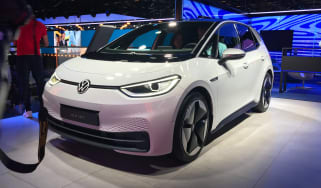 2020 Volkswagen ID.3 hatchback: base model starts at under £30k