New electric Mercedes EQE saloon to arrive in 2022
Pure-electric Mercedes EQE saloon will rival the Tesla Model S and our images preview the design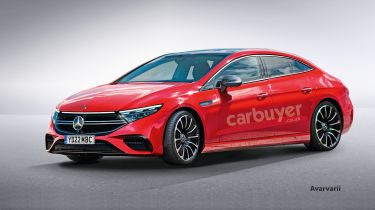 EQE will use Mercedes' new EVA platform
Capable of up to 300 miles of range
Single motor and dual motor versions expected
Mercedes will introduce a new electric saloon called the Mercedes EQE in 2022, according to insiders. The brand plans to diversify its core model range by 2025 with the introduction of a number of new pure-electric models, including the already confirmed pure-electric EQS limousine, a car that will arrive next year.
The new EQE saloon will be smaller and aimed at stealing sales away from the Tesla Model S and Porsche Taycan. It will also give Mercedes a significant advantage over its German competitors, with rival models such as the electric BMW i5 not reaching showrooms until 2023.
The new electric saloon is expected to use Mercedes' Electric Vehicle Architecture (EVA), which will also underpin the EQS limousine. The EQS is expected to launch with a 100kWh battery for an estimated range of up to 435 miles. 
The EVA platform has been described by Christoph Starzysnki, VP of Electric Vehicle Architecture at Mercedes as "fully scalable", meaning it's capable of accommodating various battery and electric motor configurations across a range of models. 
Given the EQE's positioning beneath the EQS in the lineup, it could get a smaller battery. It'll still offer a 300-mile range and is likely to be available in a choice of power outputs, with single motor models offering more range and dual-motor versions focusing on performance. 
Mercedes has already teased a pair of EQE models alongside a prototype of the new EQS saloon during testing in a remote area of Northern Germany. Our preview images show what we think is beneath the camouflage, with a design that shares the firm's signature EV styling cues as first seen on the EQC SUV.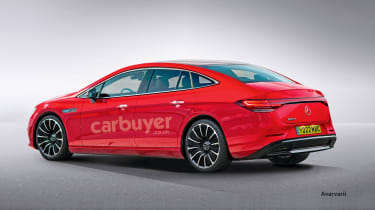 The EQE will have a sleek body design with a low roofline, similar to the current CLS Coupe. This should result in efficient aerodynamics, which will help extend the car's battery range. The rear of the car will have a short overhang and long wheelbase (the distance between the front and rear wheels), which should result in generous space for rear passengers, thanks also to the lack of a conventional petrol or diesel engine. 
At the front, there's a closed-off grille to further aid aero-efficency, with a pair of thin LED headlights. The rear of the car looks similar to the A-Class Saloon and CLA Coupe models, with the addition of a pair of recessed tailights helping to further improve the car's aerodynamics. 
For more on Mercedes' electrified models, read our review of the electric EQC SUV or the plug-in hybrid A 250 e hatchback.