New entry-level Mercedes-AMG SL roadster introduced
Four-cylinder engine and F1 turbocharger technology is announced for the new SL 43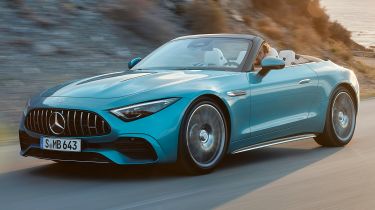 Entry SL gets F1 derived technology
Nine speed automatic gearbox
Only model to get rear-wheel drive
The new Mercedes-AMG SL is now available with a less expensive four-cylinder engine option. Badged SL 43, it joins the existing line-up of two V8 models. The new SL 43 has half the number of cylinders of the two more powerful engines but gets F1-derived technology to bolster its performance.
The 2.0-litre engine is the same already used in some other Mercedes-AMG cars but now has the addition of a 48-volt electrical system to help boost the performance by keeping the car's turbocharger ready for action even when coasting.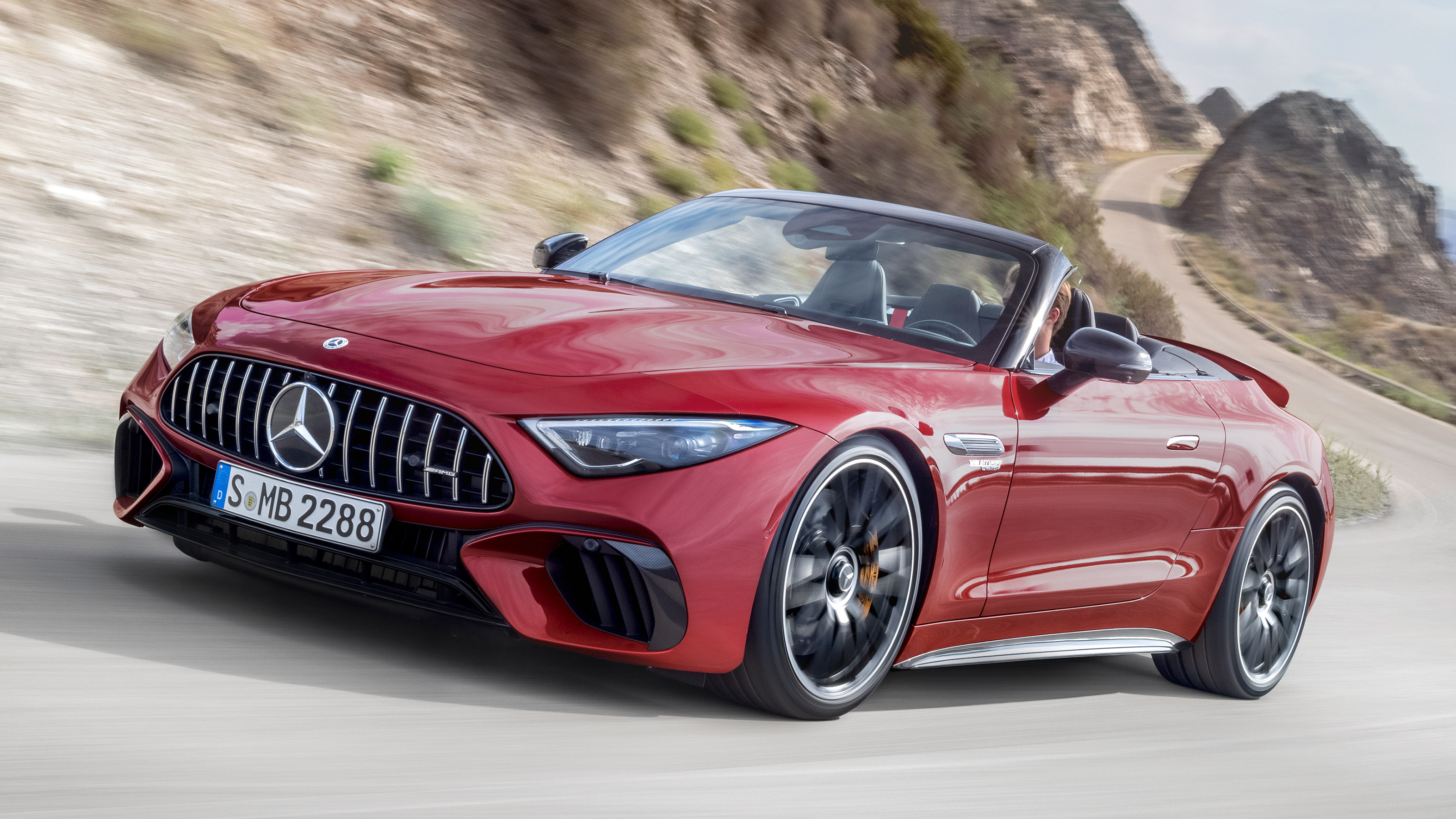 New 2022 Mercedes-AMG SL storms in with 577bhp
Instead of the all-wheel-drive system used in the more powerful V8 models, the SL 43 will be rear-wheel drive. An option for active rear steering can be specified to improve low-speed agility and high-speed stability. Adaptive damping is an optional extra which should improve ride quality.
Thanks to a lighter engine and reduced weight from the drivetrain, the SL 43 is the lightest of the current range by 140kg and so could offer the best handling characteristics on the road. 
Visually the AMG SL 43 is differentiated from the V8 models by round tailpipes instead of square ones and a smoother appearance at the front. An aerodynamic upgrade package will be available that tweaks the front and rear styling features and adds a steeper angle to the rear spoiler. As standard the SL 43 gets a set of 19-inch wheels with the option to upgrade to larger 20- and 21-inch wheels.
The same architecture is used for the SL 43 as the more powerful models, so it retains the 2+2 seating and triple-layer fabric roof. The roof can be operated on the move up to speeds of 37mph; a handy feature for the ever-changing British weather.
Mercedes-AMG SL Roadster review
Inside, there is the same large touchscreen as other AMG SL models, the angle of which can be adjusted by as much as 20 degrees to avoid glare and reflections when the top is down. Options for the interior include artificial leather and carbon-fibre trim.
The new Mercedes-AMG SL 43 returns the four cylinder engine to the range for the first time in 67 years with the last being the 190 SL. That car was a smaller more affordable option to the 300 SL back in 1955; today the proportions are the same but with F1 inspired technology the SL 43 offers its own experience.
Check out how the Mercedes-AMG SL compares to rivals like the Lexus LC convertible and BMW 8 Series convertible