BMW upgrades ConnectedDrive system
BMW has made changes to its ConnectedDrive in-car Internet system, with prices from £990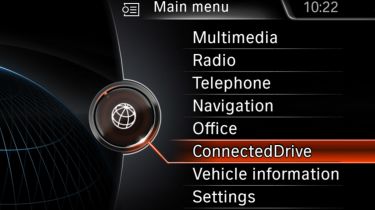 BMW has announced improvements to its ConnectedDrive infotainment system, which is now available in three different levels, costing from £990 to £1,990.
The first package – Media Package Business – only includes sat-nav and BMW's Emergency Call, with the latter function calling the emergency services in the event of an accident. It will give your location, the number of people in the car and the severity of the impact.
Next is the Media Package Business Plus, which costs £1,400, and adds access to a new BMW app store. Buyers can download software like rara, which gives access to a library of more than 17 million songs while on the move. There's also a Mobile Office App that lets buyers dictate and send e-mails.
Upgrading to Media Package Professional adds sat-nav with real time traffic information on top of all the functionality of the Business Plus pack.
BMW confirmed that the new ConnectedDrive system has also been developed for its range of i cars, such as the forthcoming all-electric i3 and the petrol-electric i8 sports car. Part of the i ConnectedDrive system is a route planner that will tell you if it's quicker for you to park up somewhere and use public transport to get to your destination.
If you don't want sat-nav but you do want online functionality BMW will sell you an Internet package for £95 per year or an Online Entertainment pack for £325 per year. Both allow access to the app store but the latter also covers the use of apps that require a lot of data to be downloaded, such as music streaming service rara.
As part of the deal BMW will pay for all data downloaded, even if you're driving the car abroad. That means there are none of the expensive roaming charges normally associated with downloading data through a mobile phone in a different country.
For the full BMW range, visit the CarBuyer BMW reviews page.