Ford Fiesta reaches four million sales
The UK's best-selling car, the Ford Fiesta, has topped four million sales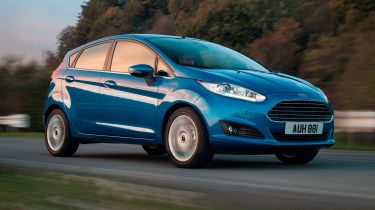 The Ford Fiesta, the best selling car in Britain, has racked up four million sales since it first went on sale in 1976. The supermini has been the highest selling car here since 2007, when it overtook the Ford Focus hatchback. Ford sold 11,332 Fiestas in June this year alone, and 63,040 in all of 2013 to that date.
The four millionth Ford Fiesta was sold to a customer in Sunderland, who chose the efficient 1.0-litre EcoBoost engine that gets more than 60mpg and emits less than 100g/km of CO2, meaning road tax is free. Ford says that a third of buyers choose this engine, with nearly 90 per cent going for the Zetec specification or above.
The entry-level Ford Fiesta in 1976 cost just £2,000 and included PVC upholstery, carpets and a laminated windscreen as standard. The equivalent entry-level Fiesta these days costs £11,495 and includes USB connectivity, remote central locking, electric front windows, air-conditioning, hill start assist and seven airbags all as standard.
The 1976 model only got 37.7mpg from its 1.0-litre engine, whereas the new EcoBoost gets 65.7mpg. There's plenty more power too, with 99bhp compared to 45bhp in the 70s model.
Until 2002, the Ford Fiesta was produced at the East London factory in Dagenham, with nearly three million being produced in that time. Today the factory is used to produce the company's range of diesel engines.
Today's Ford Fiesta is not only the best selling car in Britain but also CarBuyer's Best Small Car for both 2012 and 2013. We commended it for its economical engines, great looks and fun handling, as well as its high build quality. To find out more about the Ford Fiesta supermini read the CarBuyer Ford Fiesta review.
For the full Ford range visit the CarBuyer Ford reviews page.