BMW i3 Wallbox to cost only £315
Buyers can get a home charging point for their BMW i3 for £315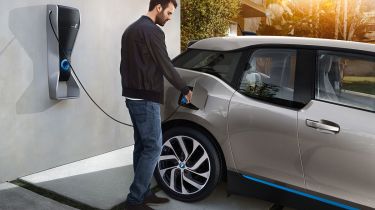 The BMW i3 was revealed last week, and now the car manufacturer has announced a dedicated home charging point that will cost just £315.
As part of a £37 million investment in electric cars, the government is offering a 75 per cent grant towards the cost and installation of a BMW i Wallbox for all BMW i3 owners.
The Wallbox allows owners to charge their BMW i3's battery from zero to 80 per cent in just three hours, with a full charge in only four hours. The boxes will be manufactured and installed by Schneider Electric – a multinational corporation that specialises in energy distribution and installation.
The collaboration will allow Schneider Electric to work alongside BMW dealerships to offer sales, installation, service and repair. Although Schneider Electric will provide the package, it will be managed by BMW to ensure it meets every customer's personal needs and expectations.
There will be two models available from launch – a pure electric model and a range-extending hybrid, which uses a two-cylinder motorbike engine paired to an electric motor. The electric family car will have a range of 80-100 miles on a full charge, while the range-extending petrol engine boosts this up to 186 miles.
The BMW i3 is set to rival cars like the Vauxhall Ampera and the Nissan Leaf and comes with a three-year unlimited-mileage warranty, which also covers the battery for eight years or 100,000 miles.
Available to order now, the BMW i3 will cost from £25,680 when it goes on sale in November. That price includes a £5,000 Government grant that is currently applied to all electric and plug-in hybrid vehicles, while BMW is also offering a leasing plan starting at £369 per month over 36 months.
For the full BMW range, visit the CarBuyer BMW reviews page.