Renault Clio dCi gets EDC gearbox
The Renault Clio and Renault Captur are now available with an EDC automatic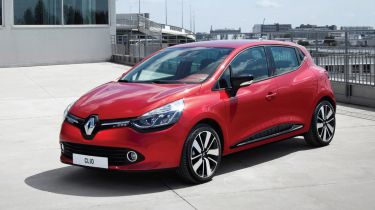 You can now specify the Renault Clio and Renualt Captur with a 1.5-litre diesel engine and EDC (Efficient Dual Clutch) automatic gearbox – for improved fuel economy and lower emissions.
The six-speed automatic gearbox behaves like a normal automatic, as well offering manual gear selection via the steering wheel-mounted paddles. As a result, both the Clio and Captur get the reliability of a traditional manual gearbox, but with the lively performance and superior running costs of an automatic.
Renault is pitching it as the perfect choice for motorists who spend a lot of time in town – eliminating the need for frustrating gearchanges in stop-start traffic.
The EDC gearbox has been made available in the Clio supermini and Captur crossover, with prices starting at £16,595 for the Renault Clio Dynamique MediaNav. The more practical Renault Captur costs from £17,395 with the same specification.
Put in simple terms, the EDC system uses two clutches to improve gear selection. One clutch looks after odd-number gears (1st, 3rd and 5th), while the other looks after even-number gears (2nd, 4th, 6th). By readying the next gear before it is required, the EDC gearbox benefits from totally smooth gearchanges – in a similar way to Volkswagen's DSG system.
In addition to the EDC gearbox, Renault has also added its Renaultsport Monitor as an option on the Renault Clio GT Line and high-power Renaultsport Clio. The system displays and logs performance data such as engine speed, temperature and oil pressure, as well as steering wheel angle, acceleration times and braking data. It is aimed at driving enthusiasts who intend to use their car on a racetrack, and costs just £295, while screenshots can be saved to USB or sharing or further analysis at a later date.
A reversing camera is also now an option across the Clio range, and can be specified on all Renault Clio MediaNav models for £350.
For the full Renault range, visit the CarBuyer Renault reviews page.