Nissan Leaf sales up 1,000 per cent
Sales figures for the Nissan Leaf set to continue growing into 2014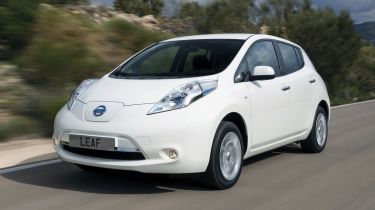 Sales of the Nissan Leaf electric car increased by 1,000 per cent year-on-year, in January 2014, with Nissan selling 230 of the cars. The news comes as Nissan sold its 3000th Leaf in the UK and 100,000th model worldwide.
Sales are set to remain strong after it was announced that more than 1,000 fast-charge points have been installed across Europe, with almost 20 per cent of those coming to the UK. A proper charging infrastructure is, understandably, seen by electric car manufacturers to be key to encouraging more people to buy electric cars such as the Leaf.
There are now 195 fast-charge points in the UK, which can replenish the Nissan's batteries to 80 per cent in half an hour, and can be found at places varying from IKEA, to motorway service stations, and Nissan dealerships. Many are also free to use for Leaf owners.
MD at Nissan Motor GB Jim Wright said: "Momentum around the Nissan Leaf is growing with each passing month and that trend only looks like continuing.
"When we launched the Leaf we were the first manufacturer to bring an all-electric vehicle to market that was both practical and affordable, and the success of the LEAF demonstrates we were right to do so.
"Now other manufacturers are trying to play catch-up by bringing their own electric models to market, but the fact that we've kicked off the new year as the leader of the pack puts us in a great position for the year ahead."
Last month, Nissan celebrated selling its 100,000th Nissan Leaf by revealing a Leaf that had been covered in 50,000 two pence pieces, and 50,000 two cent Euro coins, to represent the huge running-cost savings the Leaf offers. The 100,000th car was sold to Winchester dentist, Brett Garner.
You can read the full Nissan Leaf review or take a look at the entire Nissan range, by visiting the Carbuyer Nissan reviews page.