Volkswagen Amarok Canyon to go on sale in April
Special edition VW Amarok pick-up truck gets £8,500 worth of extra equipment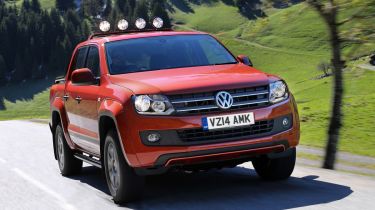 Details have been released about the Volkswagen Amarok Canyon, a luxury special edition of the VW five-seat pick-up truck.
The Canyon gets £8,500 worth of extra equipment, including 19-inch alloy wheels, front and rear parking sensors, sat-nav, heated leather seats and spot lamps mounted on the roof. Volkswagen will hope that the more luxurious feel of the special edition will make it appeal to buyers wanting a comfortable truck for leisure activities at the weekend, as well as a practical one for work during the week.
Special editions are an important part of the pick-up truck market in the UK, as VW already knows thanks to the success of its previous Amarok special edition, which sold out in just four weeks. The company produced 300 examples of that truck and the VW Amarok Canyon will be sold in the UK as a limited run of 350.
It's likely the Canyon will use the same 2.0-litre TDI diesel engine available on the standard Amarok. That engine will do 35.3mpg and emits 211g/km of CO2, and provides plenty of pulling power for carrying heavy loads – as you would expect for a pick-up truck.
Last year was a good one for Volkswagen Commercial Vehicles, with sales of the VW Caddy, VW Transporter and VW Crafter helping the manufacturer secure second place in the UK CV market – behind industry leaders, Ford. VW sold 37,000 commercial vehicles in 2013, an increase of 13.4 per cent compared to 2012.
The standard Volkswagen Amarok is a rival to the Nissan Navara, Mitsubishi L200 and Ford Ranger pick-up trucks, and costs from £24,809 (including VAT). Prices for the VW Amarok Canyon reflect the upgraded equipment, building on the mid-range Trendline specification. Prices will start at £34,7880 and the Amarok Canyon goes on sale in April this year.
To read reviews of the full VW range, head over to Carbuyer's Volkswagen page.