Toyota models to get BMW diesel engines
Partnership will see Toyota models using economical BMW diesel engines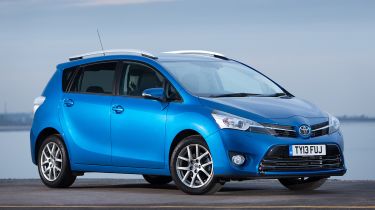 Are you looking to buy a new Toyota? If so, the next one you drive could have an efficient BMW diesel engine under the bonnet.
Toyota has signed a deal with BMW, agreeing to use the German manufacturer's efficient diesel engines in future models. The first result of this partnership is the Toyota Verso 1.6-litre D-4D, and figures show just how efficient it's become. The old model came fitted with a 2.0-litre diesel engine and managed 57.6mpg and emitted 129g/km of CO2. Now that it's fitted with the MINI Cooper D's 1.6-litre diesel engine, the Toyota Verso boasts an improved 62.8mpg figure and CO2 emissions of just 119g/km.
Gerald Killmann, Toyota's vice president of European research and development, confirmed that Toyota is already developing this engine for the Toyota Auris and Toyota RAV4. This deal promises to be quite extensive and opens up the possibility of future Toyotas being fitted with a more powerful 2.0-litre BMW diesel engine.
Toyota is already a well-known producer of reliable hybrid models. Cars in its current hybrid range include the Toyota Prius, Toyota Prius+, Toyota Auris, Toyota Auris Touring Sports estate and Toyota Yaris. They all emit under 100g/km of CO2 and cover manage between 68mpg and 135mpg, depending on the model.
In our own surveys, Toyota performs consistently well for brand satisfaction. The Toyota Yaris hatchback was voted the Most Reliable Car in the 2013 Driver Power customer satisfaction survey. We also named the Toyota GT 86 Best Coupe in the 2014 Carbuyer Car of the Year Awards.
The manufacturer hopes that it can boost European sales by replacing current models with these newer, more efficient cars. European buyers are still quite skeptical about the benefits of hybrid vehicles, so by introducing small diesel engines, Toyota hopes to steal sales from manufacturers like Renault, Volkswagen and Ford.
For the full Toyota range, visit the Carbuyer Toyota reviews page.