Ford Focus ST to get diesel engine
Diesel Ford Focus ST arrives in summer 2014 and will rival Volkswagen Golf GTD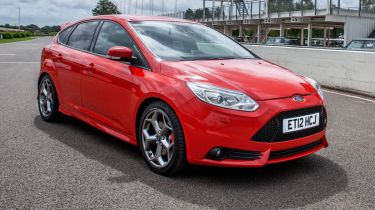 The sporty Ford Focus ST hatchback is set to get a diesel engine for the first time ever, meaning hot hatch buyers will have an exciting alternative to the Volkswagen Golf GTD.
The Focus ST has only ever been available with a petrol engine – in the existing model (pictured above) it's equipped with a 247bhp 2.0-litre engine – but now ST customers will also be able to opt for a 2.0-litre turbo diesel engine that produces 182bhp.
That may sound like significantly less power than the petrol model but the character of a sporty diesel engine means the diesel ST is still likely to offer impressive acceleration and pulling power.
The diesel ST is expected to manage 0-62mph in eight seconds, which would be half a second slower than the Golf GTD. Economy figures are naturally up on the petrol Focus ST, with the diesel model predicted to return just under 60mpg and emissions of 114g/km of CO2. By comparison, the new petrol ST will offer an improved figure of 42mpg.
Engine aside, the diesel model will get exactly the same equipment as the petrol Focus ST, including tweaked suspension and steering for better performance in corners.
The whole ST range is set to get the new Ford Focus front end and lights, plus a bigger rear wing and more sculpted bodywork to place greater emphasis on the difference between the ST and cars in the standard Focus range.
The new Ford Focus ST is set to arrive with the standard car in showrooms this summer. The current car costs £21,995, rising to a starting price of £25,495, and prices for the new one are expected to be roughly the same. An entry-level diesel ST is likely to cost around £22,000.
For Ford reviews, including one of the current Ford Focus ST hatchback, head over to Carbuyer's dedicated Ford page.