Huge discounts on Vauxhall Ampera
Range-extending hybrid Vauxhall Ampera available through dealers with £10k off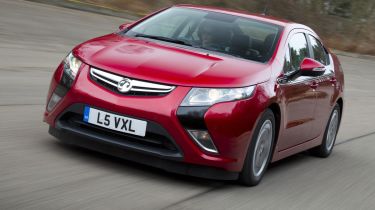 A brand new Vauxhall Ampera can now be bought for £22,995 thanks to an offer that makes the car a whopping £10,700 less than the manufacturer's recommended retail price.
The new figure includes the £5,000 government grant for plug-in cars, plus a further £5,000 discount from the selling dealer.
As a result of the reduction, the Vauxhall Ampera is now much closer to conventional Volkswagen Golf and Ford Focus hatchback models in price, making the range-extending electric car a more attractive option for those car buyers with efficiency and cheap running costs as top priorities.
While the cost of the Ampera on Vauxhall's UK website remains unchanged, the northern Vauxhall dealer group Pentagon has the car on its site at the lower price – and Carbuyer understands that other dealers have been willing to match it.
The Ampera was our winner in the Best Hybrid/Electric Car category at the Carbuyer Car of the Year Awards 2013 thanks to its combination of pure electric and range-extending petrol/electric driving that delivers well over 200mpg. Vauxhall claims CO2 emissions for the car of just 27g/km.
The most economical standard Volkswagen Golf, the 1.6-litre diesel Bluemotion model, returns figures of 85g/km of CO2 and 88.3mpg, and the five-door model costs £21,270. The Ford Focus 1.6-litre ECOnetic diesel Edge starts at £18,400 and is capable of 83.1mpg and CO2 emissions of 88g/km. The official combined economy figure for the Ampera of 235.4mpg along with the new lower price means it would be much easier to recoup the initial cost of the car in the savings made possible by the rock-bottom running costs.
The offer price of the Ampera is also significant because it makes the car cheaper than electric rivals like the smaller BMW i3 and the Volkswagen e-Golf. The petrol generator means you can do longer journeys, without the fear of running out of electricity.
For a review of the Vauxhall Ampera, as well as other cars in the current Vauxhall range, head over to Carbuyer's dedicated Vauxhall page.