New MINI Convertible: price, specs, release date
The 2015 MINI Convertible will get a fabric roof that drops in seconds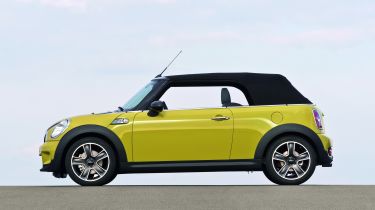 The introduction of the new MINI is the first on a list of fresh models for the firm, which include the new MINI Paceman, new MINI Countryman, MINI John Cooper Works, a five door version of the standard MINI hatchback and the new MINI Convertible.
The latter has already been spotted on the roads completing final testing, and is set to share its subtle new looks, new tech, and brand-new engines with the MINI hatchback. It will replace the current MINI Convertible (pictured here) when it goes on sale in 2015.
New MINI Convertible release date and price
The new MINI Convertible is expected to go on sale next year, and will carry a premium of around £2,000 over the standard MINI, meaning it will be priced from around £16,000.
New MINI Convertible details
The new MINI Convertible has already been spotted testing on public roads so we know that it gets a fabric roof, which takes up less boot space than the more secure hardtop alternative. Expect the roof to get a quick action and to be able to operate on the move – to take full advantage of any summer sunshine.
As in the outgoing car, boot space is set to be limited, but the new model should improve on the old car's meagre 125-litre luggage capacity. You can also expect the rear seats to be slightly roomier, although they've only ever been suitable for very small children, and are better used as additional luggage space.
The new MINI Convertible will get all the equipment that features in the new MINI, including its new infotainment system that is used to control everything from the stereo to the ventilation controls.
As with the hatchback, owners will be able to set up their car depending on their driving style, choosing from three presets – Sport, Mid, or Green – for sporty or more comfortable driving.
A whole raft of safety features will also be on offer, including an autonomous braking system that can detect an imminent collision and brake the car in an attempt to avoid it. In addition to this, we expect the MINI to offer auto-dipping headlights, a HUD (head up display) and clever park assist that can effectively indicate a suitable parking space and then park the car for you. It's widely anticipated that the new MINI will be awarded five-stars when it gets crash tested by Euro NCAP.
New MINI Convertible engines
The new MINI Convertible will get the same engines and trim as the hatchback, although the weight of the convertible roof means it will probably be slightly slower and a little bit less fun to drive. That means the MINI One Convertible will get a 1.2-litre, three-cylinder petrol engine that can return 61.4mpg, emit 108g/km of CO2 and get from 0-60mph in around 9.9 seconds, or a 1.5-litre diesel capable of 83.1mpg and emissions of 89g/km.
The MINI Cooper Convertible, meanwhile, will get a 1.5-litre petrol engine that can get from 0-60mph in 7.9 seconds, has a top speed of 130mph, but can still return 62.8mpg. The diesel version should get around 80.7mpg and emissions of 98g/km.
As with the MINI hatchback, the MINI convertible will be offered with either a six-speed manual or a six-speed auto gearbox.
For the full MINI range, visit the Carbuyer MINI reviews page.