Volkswagen Golf R for £200 a month for business users
The fastest Golf ever is available for less than the monthly price of a Skoda Octavia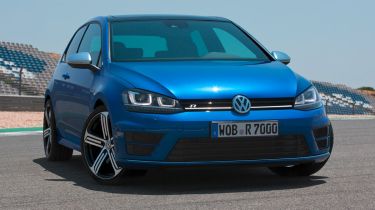 The 296bhp Volkswagen Golf R hot hatchback is now available to business users for just £200 a month – less than the cost of a Skoda Octavia diesel. The Golf R is the fastest production hatchback that VW has ever built, getting from 0-62mph in just 5.1 seconds with a top speed limited to 155mph.
If you were to buy the Golf outright, it would cost you just under £30,000, but car leasing specialist Dreamlease.co.uk is offering a special deal to business users for £200 a month with a down payment of £1152 (all plus VAT).
There is a mileage limit of 5,000 miles a year, but additional mileage costs are affordable at 6p per mile so covering 10,000 miles a year will cost you an additional £300 (again plus VAT). The deal is over a two-year term.
Although this is the hottest Golf ever, VW still claims decent fuel economy, with an average of 40mpg. It's as spacious as any other Golf, too, and comes nicely equipped with Xenon headlights, LED daytime running lights and rear lights, parking sensors, Bluetooth and a DAB radio.