Jaguar XE promises more than 75mpg
Hi-tech construction means Jaguar will return fuel economy of more than 75mpg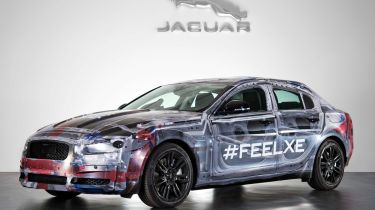 The Jaguar XE will be capable of more than 75mpg, making it the most fuel efficient car in its class. The car will go on sale early next year, following its official reveal in London on 8 September.
The figures released today by Jaguar means the XE will cover more miles to the gallon than key rivals such as the BMW 3 Series 320d EfficientDynamics (68.9mpg), Audi A4 Ultra (64.2mpg) and the Mercedes C-Class C220 BlueTEC (70.6mpg).
The impressive fuel economy comes in part thanks to the use of lightweight aluminium that accounts for 75 per cent of the car's structure. Jaguar has previous expertise using the material in the Jaguar XJ, Jaguar XK, and the Jaguar F-Type.
Dr Mark White, Jaguar's chief technical specialist; Body Complete, said: "The Jaguar XE body uses over 75 per cent aluminium content, which far exceeds any other car in its class. This gives us a body structure with unrivalled low weight: it's light but also immensely strong with extremely high levels of torsional stiffness. We've made sure our aluminium-intensive body structure exceeds all global safety standards without compromising on vehicle design or refinement."
Use of high strength aluminium called RC 5754 (which we're told was developed specifically for the car) should also make the car feel more surefooted in the corners.
We'll have to wait until after September to find out if Jaguar's claim that the XE will be "the true driver's car in the segment" rings true. Until then, you can read reviews of the current range on the Carbuyer Jaguar reviews page. Read our Jaguar XE price and specs story for all the latest on the new baby Jag.