Mercedes S-Class Plug-In Hybrid on sale now
The new Mercedes S 500 Plug-In Hybrid will do 101mpg and emit just 65g/km of CO2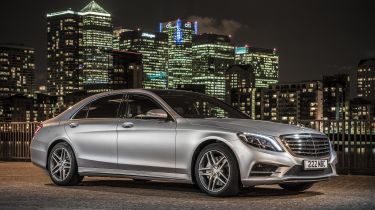 The super-economical Mercedes S 500 Plug-In Hybrid will cost from £87,965, be exempt from road tax, and return up to 101mpg. That makes it the most economical Mercedes S-Class ever, despite being able to do 0-62mph in 5.2 seconds and hit a top speed of 155mph.
It's the third hybrid model in the S-Class line-up, joining the S 300 BlueTEC diesel hybrid and S 400 petrol hybrid versions. The S 500, however, is the first plug-in version – giving it an electric-only range of more than 20 miles.
The S 500 Plug-In Hybrid is not to be confused with the standard S 500 petrol version. That model will only manage 31.7mpg, while emissions of 207g/km mean it'll cost £285 per year to tax. The Plug-In version will do 100.9mpg and emit just 65g/km of CO2 – the latter surely making it very popular in London, where it will escape the daily Congestion Charge.
Mercedes has tuned the S 500 to read the road ahead and minimise energy loss. That means the Hybrid can store power on motorways and open roads, ahead of urban areas where it can then run on electric power alone.
The S 500 Plug-In uses a 328bhp petrol engine mated to an 114bhp electric motor, for impressive performance and acceleration. The 0-62mph time of 5.2 seconds makes it faster than a Porsche Cayman, and only 0.4 seconds slower than a Porsche 911.
Based on the long wheelbase Mercedes S 500 AMG Line, the S 500 Hybrid gets 19-inch alloy wheels, a sporty AMG body kit and noise-insulating glass. Leather seats, sat-nav and LED lighting are also standard.
Like all S-Class models, the S 500 Hybrid is available with imitation hot stone massage seats, as well as heating and ventilation systems in the front and rear. Magic Body Control, which uses a camera to read the road and prep the suspension for a soft ride, is also available as an option.
The S 500 Hybrid can be charged using a standard three-pin plug, but a typical top-up at a public power point will take around two hours. Of course, like all other plug-in models, when the batteries run dry, the Mercedes will seamlessly switch to petrol power to allow owners to continue their journey stress-free.
It's on sale now priced from £87,965, with first deliveries from November.
For more information on the current Mercedes range, including a video review of the S-Class saloon, visit the Carbuyer Mercedes reviews page.