Mazda and MG models to star at London Motor Show
Tickets can now be pre-booked for the London Motor Show, to be held next year in Battersea Park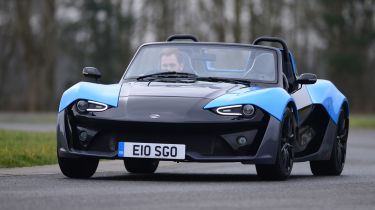 The London Motor Show could be the first opportunity for British buyers to see the new MG GS SUV, after the British carmaker confirmed its attendance at the show.
Although the cars MG are to yet to be confirmed, the show coincides with the build up to the launch of the third model to be sold in the UK by the rejuvenated firm.
The news comes as south east dealer TW White & Sons will display a range of Mazda models, as well as the quirky Mitsuoka Roadster. The show will be the first opportunity for the public to see the retro-styled Mazda MX-5 based two seater in the UK.
The Zenos E10 and E10S will also be on show, as will the Tesla Model S.
Visitors will be able to see a wide range of MINI and BMW models, including the dramatic BMW i8 electric sports car. BMW and MINI dealer, Sytner Canary Wharf will have a total of ten stands around the venue.
The show will be held from 5-8 May 2016 at the Battersea Park Evolution Centre. Organisers say visitors will be able to see a wide range of models from major car makers, as well as the very latest automotive technology, including hybrid and electric vehicles and driverless cars.
Unlike most motor shows, visitors will be able to get behind the wheel of some of the exhibits. Organisers will offer show-goers the opportunity to arrange road tests of cars around Battersea Park. There will also be areas devoted to important issues such as road safety, technology, training and city driving.
Away from driving, there will be a range of family entertainment and hospitality, while Battersea Park is conveniently located near to rail, air and bus transport links.
The show organisers say the London Motor Show will bring a "totally fresh approach" to motor shows, with a programme of seminars with leading car industry and government figures discussing issues with visitors.
The event was officially launched in May at a reception in St James' Palace hosted by HRH Prince Michael of Kent – the London Motor Show's patron.
A London Motor Show spokesman said: "With the considerable changes happening in the motor industry, this is exactly the right time to bring back to London a high-profile motoring event.
"It will provide an important platform for the UK's buoyant and confident manufacturers, importers and retailers to showcase their products. The London Motor Show will bring global brands to the capital, to an event that visitors will find truly engaging."
All tickets are priced at £13, with under 5's free with a fee-paying adult. Find out more information at thelondonmotorshow.co.uk.