VW Golf Cabriolet gets subtle, sporty facelift for 2016
Compact drop-top to look more aggressive, but still based on old chassis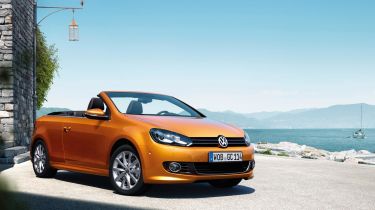 The Volkswagen Golf Cabriolet will be facelifted next year, as the popular small convertible reaches the mid-point of its time on sale.
Revisions to the exterior styling are the most apparent changes. Tweaks to the front bumper give it a sportier, more aggressive look and this is complemented by enhanced side sills and the addition of distinctive 'accents' at the back of the car.
The Golf Cabriolet also gets a new range of colours – six new exterior paint shades and an additional colour for the convertible roof. There will also be six additional wheel designs. The interior has also been improved, with new cloth trim options and different designs for the leather seats.
This comprehensive refresh of the model could be enough to keep it popular, despite that fact that it's still based on the previous-generation Golf hatchback.
Volkswagen's work on the Golf Cabriolet goes beyond aesthetic changes, though. The model also receives stereo and infotainment upgrades, including Car-Net – a service that enables you to integrate your smartphone with the Golf Cabriolet's display.
As part of this system, 'Guide and Inform' connects you to the internet to access detailed information about facilities and points of interest near the car. This includes all sorts of data, from weather forecasts to nearby museums and restaurants.
The Golf Cabriolet engines now conform to the latest EU emissions standards. There are four petrols and two diesels, all of which are turbocharged for strong performance.
The petrols range from the efficient entry-level 1.2-litre TSI to a 2.0-litre that makes 217bhp. Both diesel models are 2.0-litres with relatively low CO2 emissions (and therefore modest road tax billsl).
The Golf Cabriolet competes against the Audi A3 Cabriolet, Renault Megane C-C cabriolet, MINI Convertible and Peugeot 308 CC. The BMW 2 Series and Vauxhall Cascada are also worth considering if you're looking for a compact drop-top.
Nissan Ariya vs Volvo XC40 vs Volkswagen ID.4 - which is best?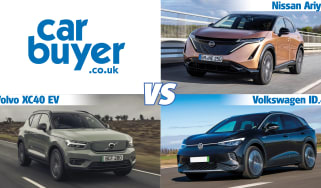 Nissan Ariya vs Volvo XC40 vs Volkswagen ID.4 - which is best?
Best new car deals 2022: this week's top car offers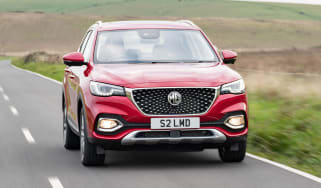 Best new car deals 2022: this week's top car offers
Top 10 best electric family cars 2022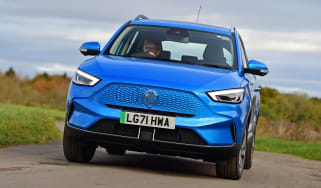 Top 10 best electric family cars 2022