Volkswagen debuts new infotainment system at CES 2016
Company shows off new touchscreen infotainment system at this year's Consumer Electronics Show in Las Vegas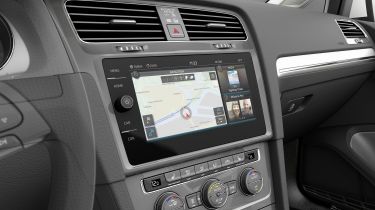 Volkswagen has shown off its next-generation touchscreen infotainment systems at the 2016 Consumer Electronics Show in Las Vegas – a tech fest that's becoming increasingly relevant to the automotive sector.
Fitted to the brand's all-electric family hatchback – the Volkswagen e-Golf – the new system will use a 9.2-inch hi-res touchscreen to control all its functions. The home screen will be configurable, with various function tiles – for things like the phone, media and sat-nav screen – that can be shortcuts to the driver's two favourite functions, whatever they may be.
In addition to this, the new system will be compatible with all three of the major smartphone integration systems on the market: MirrorLink, Apple CarPlay and Android Auto. All of these systems allow you to use the various apps on your smartphone through the touchscreen infotainment system itself, which is both legal and much safer than using the phone to do it.
This new system doesn't require a USB cable connection, though. Instead, it connects via WiFi and uses a new system called App Connect to allow the car and device to speak to one another.
It'll also debut a new generation of voice control that, Volkswagen claims, is much improved over previous systems. Wireless inductive charging pads for your smartphone included, too, eliminating the need for messy cables around the interior. These are positioned up front (in a tray under the infotainment screen) and in the back (built into the armrests).
Volkswagen has also taken on the challenge of improving communication from the front to the back seats with a voice-amplification system. A microphone in the front amplifies the driver or front-seat passenger's voice and plays it through speakers in the back.
As well as these functions, there'll also be greater scope for personalisation. The new system will allow you to save various settings to a cloud-based server. This uses something called a Volkswagen Car-Net ID and remembers your settings, so if you log in to another Volkswagen, it remembers your settings and implements them automatically.
Volkswagen's new system also displays and announces notifications from your smartphone, as well as allowing you to reply to messages in both a safe and legal fashion.
While there's no official word as to when the new system will be available, we suspect that as it was showcased in a current production car and some of the elements (such as wireless phone charging) are already available on some VW Group products, it can't be too far off.