Electric Smart ForTwo & ForFour to make Paris debut
All-electric city cars to make public debut at Paris; will arrive before 2017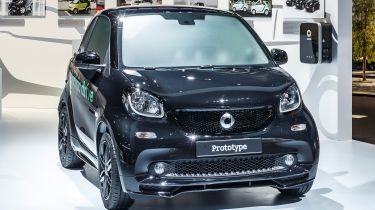 Alongside the hydrogen-powered Mercedes GLC F-CELL, Mercedes has announced new all-electric Smart ForTwo and Smart ForFour city cars.
While there was an all-electric version of the last-generation ForTwo, there's never been an electric ForFour before. This means Smart will be the only brand in the world to offer both petrol and electric versions of its entire range.
All three cars – there's a cabriolet version of the ForTwo as well – will make their debut at this autumn's Paris Motor Show and will take parent company Daimler's total number of EVs on sale to 12.
Speaking to our sister title Auto Express, Smart boss Annette Winkler said: "Smart was designed for electric drive right from the start – and 'living electric' is our motto as an electric-car pioneer. The perfect car for the city is getting the perfect drive for the city."
Thus far, only prototypes have been displayed, so there's no official word on electric range or performance as yet, although we're confident it'll be better than the previous model's 90 miles. It's also likely to have shorter charge times than the previous model. Unsurprisingly, the electric versions will keep the petrol versions' myriad personalisation options, as well as their signature in-town agility.
Fairly minimal performance gains are expected across the range, while prices are expected to stay fairly steady. This means a starting price of around £20,000 for the Smart ForTwo electric drive (before any Government grants are taken into account), with the ForFour costing around £1,000 extra.
Further information about the Smart ForTwo and ForFour electric drive models will be released ahead of the cars' debut at September's Paris Motor Show. We expect to see first cars arrive on these shores towards the end of 2016, when they'll take on the likes of the Volkswagen e-up! and Renault Zoe.