Watchdog: Simple electrical fault takes five months to fix
Reader's SEAT Ibiza spent months in garage, but damaged fusebox was an easy repair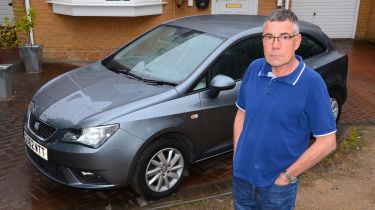 Electrical gripes can range from faulty headlights to dodgy sat-navs, and from corroded batteries to glitchy reversing cameras. Naturally these types of problems are growing as more technology is loaded on to cars.
That makes diagnosing exactly what's wrong with a car harder than owners would like and sometimes means that issues can rumble on for longer than is acceptable.
That was certainly the case for David O'Dell, from Leighton Buzzard, Bedfordshire, who hadn't seen his 2012 SEAT Ibiza for five months when he contacted us in May.
David had taken his car into Lancaster SEAT in Milton Keynes, Buckinghamshire, after the headlamps, brake and indicator lights all failed. The body control module was replaced for £500, but the problem quickly recurred.
More repairs were attempted, but the issues persisted. The dealer even offered to part-exchange the car, but David wasn't satisfied with the below-market-value deal on the table. SEAT kept the car to investigate, but requested David return his courtesy car as it had been sold to another customer.
An unhappy David then got in touch with us, amazed a main dealer couldn't fix his car. He said: "I have not had use of my car for five months and have not seen it at all since December last year. The dealer seem intransigent and SEAT customer services have been totally ineffective."
We got in touch with the manufacturer, which agreed to send a specialist engineer to complete a technical inspection on the Ibiza. This found fusebox damage that had been causing the fault to reappear, and by simply fitting a new wiring loom, the issue was fixed once and for all.
A SEAT spokesman added: "SEAT takes the customer service experience of its owners very seriously, and on this occasion, Mr O'Dell's has not met our usual standards. For this reason, we have offered the customer a £800 gesture of goodwill, as well as a free service within the SEAT UK dealer network. SEAT sincerely apologises for the inconvenience caused."
David was pleased with the outcome and said: "Thanks for taking an interest. I'm sure SEAT knew somebody was taking a look at this matter, so I'm certain it helped."