Nissan Leaf prices start below £22k
Full Nissan Leaf electric car model range is on sale now
The all-new Nissan Leaf is now on sale, priced from £21,990 and with the first customer deliveries expected in February.
Having been launched with a single special-edition Leaf 2.Zero model, the full Nissan Leaf model line-up has now been announced. Prices range from £21,990 to £27,490 after the Government's £4,500 electric car grant has been taken into account.
Impressively, the second-generation Leaf is priced very close to the outgoing model, despite notable improvements in battery performance. While the previous Leaf could officially manage up to 155 miles on a single charge, the new Leaf has an official range of 235 miles, and its batteries can take on 80% charge in as little as 40 minutes when connected to a rapid charger.
Hills, cold weather, driving styles and passengers will all have an impact on how many of those 235 miles you'll be able to cover but compared to the outgoing Leaf, it's clear the new model represents a significant step forward for the car's range. Add Nissan's innovative 'e-Pedal' (which is explained below), along with the promise autonomous technology, and the latest Leaf looks set to be a front-runner in a quickly expanding electric-car market.
Full specifications for all trim levels have yet to be announced, but the £26,490 Leaf 2.Zero launch edition model is very well equipped. It offers a digital dashboard screen, a seven-inch infotainment sat nav setup, 17-inch alloy wheels, tinted windows, auto-dipping headlights, climate control, all-round parking sensors, Nissan's suite of autonomous systems – known as ProPilot – and the new Leaf's innovative e-Pedal.
New Nissan Leaf: e-Pedal
Nissan's new e-Pedal may be one of those features owners are cautious of at first, but soon become converts to before extolling the virtues of.
Although the new Leaf has an accelerator and a brake pedal, the e-Pedal setup allows "drivers use a single pedal for more than 90% of their driving needs". As soon as you take your foot off the accelerator, the Leaf's regenerative brakes (which uses otherwise-wasted kinetic energy from the brakes to recharge the batteries) and its standard brakes will automatically slow the car.
The brake lights illuminate as soon as the Leaf begins to lose speed and the e-Pedal will hold the car – even on steep inclines – without the brake pedal having to be applied. Nissan says the "conventional brake pedal must still be used in aggressive braking situations", and while the e-Pedal is standard with all Leafs, it can be switched off if desired.
ProPilot autonomous systems and safety features
The new Leaf is a showcase for Nissan's new ProPilot suite of autonomous technology. Although likely to be optional, there are two of these, and the main ProPilot system works at speeds between 19 and 62mph.
Essentially comprising a steering assistance system with adaptive cruise control, ProPilot will keep the Leaf travelling at the same speed as the car in front, braking if the lead vehicle slows. Should traffic come to a complete stop, ProPilot will return to following the car in front when you push the activation button or lightly press the accelerator. And while a little way off a fully autonomous setup, ProPilot "can also help the driver steer and keep the vehicle centered in its lane".
ProPilot Park, meanwhile, scans for, detects and drives the new Leaf into a parking space autonomously. Unlike some systems, the Leaf will accelerate and brake into a space as well as steer, leaving you to sit back and do nothing but watch.
The new Leaf is also offered with the latest protective technologies, including autonomous emergency braking, lane-keeping assistance, traffic-sign recognition and rear cross-traffic alert, which scans behind for objects when reversing.
Nissan Leaf: design
Nissan's original Leaf was the world's first mass-production pure electric car when it launched back in 2011, and although the company has kept improving its functionality and range, the pace of EV development means the new Leaf has stiff competition on its hands.
Can the new Leaf tempt buyers away from the Volkswagen e-Golf, the recently facelifted BMW i3 and the forthcoming Tesla Model 3, let alone conventional petrol and diesel cars?
Based on looks alone, the answer is probably 'yes'. On initial inspection, the new Leaf borrows some styling cues – particularly at the front – from the latest Nissan Micra, but one glance at the blue "3D mesh pattern" grille makes its forward-thinking nature impossible to miss. The glossy 'floating' roof joins seamlessly up with both the tinted rear windows and the dark boot, while the angular rear lights cut into the car's bodywork with welcome panache.
The new Leaf is 448cm long, 179cm wide and 153cm high, meaning it's 4cm longer, 2cm wider and 2cm lower than its predecessor. For further scale, the Ford Focus is 12cm shorter but 3cm wider than the new Leaf.
2018 Nissan Leaf range and charge times
Powering the new Leaf is a 148bhp electric motor and a lithium-ion battery pack, which give the car an official range of 235 miles. Although hills, air-conditioning, cold weather and other factors will affect this range, it's a significant improvement on the outgoing Leaf's official battery range of 155 miles – and that's with the old Leaf's high-range battery pack.
Speaking of high-range batteries, the new Leaf will be offered in high-power extended-range format at a later date, although firm details of this model are still being ironed out. While Nissan says the new Leaf has a top speed of 90mph, the company hasn't quoted a 0-62mph time. For comparison, the outgoing Leaf takes 11.5 seconds to see off this performance yardstick; we expect the new model to be slightly faster.
Nissan says owners with access to a rapid charger (found at motorway services stations, shopping centres and other such locations) will be able to replenish 80% of the battery pack's life in just 40 minutes, while a domestic three-pin socket will complete a full charge in 16 or 8 hours depending on wattage.
And when the new Leaf is plugged into the mains in certain countries, it'll be able to absorb and feed back excess power to and from the grid, helping balance electricity generated by renewable sources with user demand. This setup isn't yet in place in the UK, but the Government recently announced a £20 million feasibility study in this area. Owners could receive compensation if they sign up to any such scheme in years to come.
Dashboard and interior
There's a strong argument to say if you're a mass-market manufacturers selling an electric car, keeping its interior relatively conventional will avoid scaring potential first-time EV customers away. Part of the genius of the original Leaf was anyone coming from a petrol or diesel car would find it relatively familiar inside.
The new Leaf's infotainment touchscreen, for example, will be familiar from other Nissans, while the round drive control unit has been carried over from the previous model.
That's not to say the new Leaf is retrograde by any stretch of the imagination: the seven-inch digital dashboard display shows information regarding battery life and range, as well as the status of the car's adaptive cruise control and its self-parking system (see below). This screen is, however, joined on the right by an analogue speedometer, embodying the blend of high technology and familiar design the Leaf offers.
Other user-friendly touches include a pair of cup-holders in the centre console, USB, 12-volt and 3.5mm aux-in inputs, as well as physical switches for the air-conditioning and heated seats – no touchscreen fumbling here. Sat nav is available, naturally, while the seven-inch infotainment system features Apple CarPlay and Android Auto.
The new Leaf should be a practical car: it can seat five people "comfortably", while its boot measures 435 litres, which is an increase of 65 litres over its predecessor. Nissan's smartphone app, meanwhile, will allow Leaf owners to pre-heat or cool the car before they get in.
New Nissan Leaf prototype drive
We'll give the new Leaf a thorough going-over in the coming months, but in the meantime our man got behind the wheel of a prototype in Japan.
Overall, it left us impressed. The new Leaf feels swift enough when moving away and it's quiet and comfortable, with little road noise and only minimal hum from the motor. Like the outgoing Leaf the new car feels some way off being exciting, and while UK Leafs will get a different suspension setup that may improve things, the steering provided little feedback over the course our short test route.
Still, few will turn to the Leaf for sheer driving excitement, and the new e-Pedal will be the first thing many potential Leaf buyers will want to know about. Using just the accelerator both to move forward and slow takes a little getting used to, but quickly becomes second nature after a brief period of acclimatisation. Taking your foot off the accelerator leads to controlled slowing – even on inclines – and after a short while we found ourselves being able to perfectly judge where the Leaf would stop.
The switch between regenerative and standard brakes (which is done automatically as soon as you take your foot of the accelerator) felt a little grabby, though as this was a prototype drive, it's quite possible the transition will be made smoother for production models.
2018 Nissan Leaf price and on-sale date
The new Nissan Leaf is available to order now, priced from £21,990 for the entry-level Visia model – this price takes the Government's £4,500 grant into account. Acenta and N-Connecta grades come next, at £24,290 and £25,990 respectively, while the Leaf 2.Zero launch edition remains on the price list at £26,490 and the range-topping Tekna starts at £27,490.
Customer deliveries are due to start in February.
Nissan Leaf hatchback: old vs new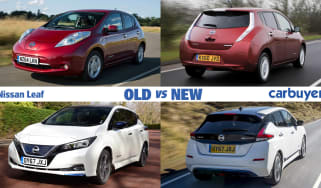 Nissan Leaf hatchback: old vs new
Nissan Leaf named Britain's best-known electric car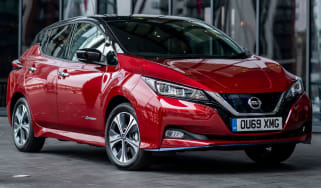 Nissan Leaf named Britain's best-known electric car
Updated Peugeot 5008 starts at £29,585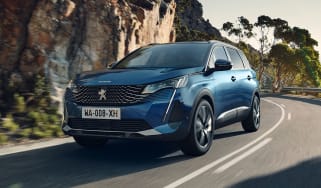 Updated Peugeot 5008 starts at £29,585
Cupra Formentor SUV review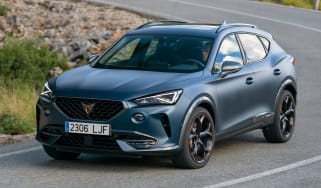 Cupra Formentor SUV review
2020 Volkswagen ID.3 hatchback: base model starts at under £30k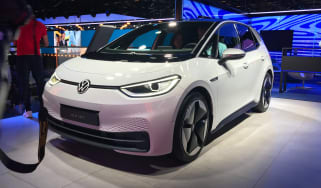 2020 Volkswagen ID.3 hatchback: base model starts at under £30k