Owner left in limbo as fault can't be replicated
Golf R buyer frustrated as power loss problem fails to materialise at different dealers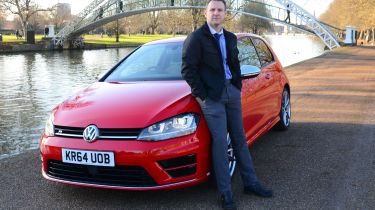 Intermittent car faults can be a nightmare, with owners wondering if the symptoms will appear when the vehicle is taken back to the garage and often being left facing months or even years trying to flag up the mystery problem. The key to any success in these cases is to ensure you keep accurate records of every trip you take to the dealer, and all discussions and fixes are made in writing.
Mark Broadhurst of Rushden, Northants, says he wishes he'd done just that, after contacting us to complain about a persistent fault with his 64-plate Volkswagen Golf R, which he bought new from Vindis Bedford VW in December 2014. He says he's now spent two years battling with VW, its finance company and its dealer network over the car's intermittent habit of losing power, which he says began just a few weeks into ownership.
He told us: "The car would act as if it had cut power to the engine and almost come to a stop. It was intermittent and when I tried to replicate it, I couldn't. It was frightening."
He says Vindis Bedford engineers drove the car, and found nothing wrong. A second dealer, Parkway VW in Kettering, fitted a diagnostics kit, but its engineers also failed to identify the problem. The car's radar was replaced and later re-calibrated, to rule out oversensitivity with the autonomous braking system, but the fault persisted.
A VW spokesman told us it had arranged for an RAC inspection, and later said its report revealed "no identifiable faults". Mark's attempts to reject the car were also then rebuffed. In a letter from VW Financial Services, it claimed "there is no record of your current complaint until June 2016, 18 months after the purchase".
It added that after six months of ownership, the burden of proving the problem had occurred since new was down to him. Instead, it said it would pay him £750 "in recognition of the distress and inconvenience caused".
Mark told us: "It's a lesson learned for me. In future, I'll ensure any work or conversations had with dealers will be thoroughly documented to prevent them from denying knowledge of issues."