Lamborghini Urus SUV unleashed - and a hybrid is on the way
Monstrous Lamborghini 'Super Sport Utility Vehicle' breaks cover
Italian supercar manufacturer Lamborghini has expanded its two-car range to three with the arrival of the Urus – a rival for the Range Rover, Bentley Bentayga and Porsche Cayenne that's set to bring supercar performance to the modern luxury SUV class.
The car will launch with a V8 petrol engine, but Carbuyer has learned a plug-in hybrid version is also on the way, and could launch by the end of the decade. A company insider told Carbuyer such a format was "necessary".
Hybrid technology is fast becoming a much have for upmarket carmakers. Although nothing is yet confirmed, it's likely the Lamborghini Urus hybrid could use the same engine and motor combination as the Porsche Panamera hybrid, a car with which the Urus shares many parts.
Lamborghini Urus engine, gearbox and chassis
Based on the same underpinnings as the Audi Q7, the Lamborghini Urus takes basic Volkswagen Group underpinnings and adds "pure Lamborghini DNA" – not least thanks to a twin-turbocharged 4.0-litre V8 with 641bhp, connected to an eight-speed automatic gearbox.
The result is a remarkable set of performance figures for a car of this kind: 0-62mph in 3.6 seconds, 0-124mph in 12.8 seconds and a top speed of nearly 190mph. Lamborghini claims that the Urus is "the fastest SUV available". A plug-in hybrid version using the Panamera hybrid's engine and motors would likely deliver almost 700bhp, and could shave half a second from its 0-62mph time.
Getting an SUV to travel quickly in a straight line is hard enough, but ensuring such a large machine can corner properly is equally as difficult a task. Lamborghini has fitted adaptive air suspension and active roll stabilisation to keep the Urus' weight in check around bends, although a (relatively) svelte kerb weight of 2,200kg helps considerably.
In contrast, the Porsche Cayenne Turbo S and Bentley Bentayga weigh in at 2,310kg and 2,440kg respectively. The Urus also gets rear-wheel steering (as seen on the Aventador S supercar), which brings a reduction in turning circle, an increase in agility or improved stability, depending on the car's speed.
Thanks to the inclusion of carbon-ceramic brakes, Lamborghini claims the Urus can stop from 62mph in just 33.7 metres – a remarkable achievement for a large SUV.
In line with its supercar siblings, the Urus is fitted with Lamborghini's EGO system, which allows owners to set up systems like the car's suspension and exhaust as they see fit.
Four-wheel-drive system
Lamborghini has also fitted the Urus with a sophisticated four-wheel-drive system to help keep it planted and secure in a variety of situations. As standard, four different driving modes can be selected: Strada (road), Sport, Corsa (track) and Neve (snow).
Each mode optimises the car's four-wheel-drive and ESC systems to deliver power to the wheels that need it most, meaning better traction in bad weather or off-road, along with less steering effort and sure-footed handling on the road. Select Sport or Corsa mode and the Urus will be at its most dynamic, while Sabbia (sand) and Terra (off-road) modes (which come as part of an optional Off-Road Package) help the driver stay in control on looser surfaces. The package also brings extra underbody protection.
Styling and interior
The Urus' styling is already proving divisive, but there's no denying its intimidating presence. Its large SUV body is adorned with modern Lamborghini cues, including a sharply wedged nose, hard body creases and Huracan-like headlights, tail-lights and quad-exit exhausts. Buyers can choose 23-inch wheels and a bright staple Lamborghini exterior colour if being the centre of attention is paramount.
There are similar Lamborghini styling elements throughout the Urus' luxurious cabin, including hexagonal air vents, a Y-shaped dashboard and a low driving position all feature, along with a choice of of high-quality leather, Alcantara, aluminium, carbon-fibre and wood trim.
The car's infotainment system features two screens, one of which sits behind the steering wheel in place of traditional dials, and includes sat nav, voice control, a DVD player and Bluetooth audio streaming, while an optional 1,700-watt, 21-speaker Bang & Olufsen sound system can be specified.
There's seating for five as standard, with a rear bench that folds and moves to offer a balance between passenger and luggage space – the boot itself measures in at 616 litres. An optional two-seat rear seating arrangement can be also specified.
Safety
Thanks to its VW Group connections, Lamborghini has fitted a number of safety and driving assistance systems to the Urus. Automatic headlights that fade in and out as needed, cruise control and front and rear parking sensors feature as standard, along with autonomous emergency braking (AEB).
On-sale date and price
When it goes on sale in the spring of 2018, the Lamborghini Urus is expected to start at around £165,000 – about £10,000 more than the current cheapest Lamborghini, the Huracan coupe. By way of comparison, the Bentley Bentayga in W12 form starts at £162,700.
Best new car deals 2022: this week's top car offers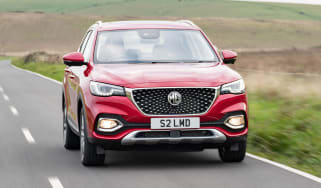 Best new car deals 2022: this week's top car offers
Top 10 best electric family cars 2022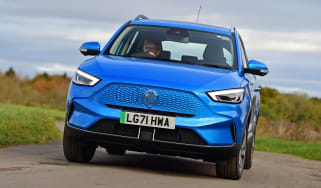 Top 10 best electric family cars 2022
Kia EV4 SUV to take on the Volvo XC40 Recharge
Kia EV4 SUV to take on the Volvo XC40 Recharge