VW Golf R Performance Pack gives up to 168mph top speed
VW now offers a Performance Pack upgrade for the Golf R hatchback and estate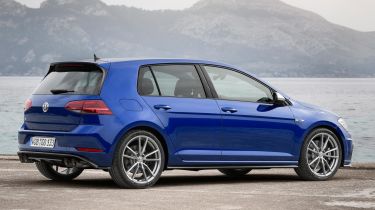 Volkswagen has announced the arrival of an optional 'Performance Pack' for the Golf R hatchback and estate. Focused on making the car go faster, stop better and look more aggressive, the pack combines better brakes, bigger wheels, speed-limiter removal and – on the hatchback – a small rear spoiler. It's a £2,300 option on either bodystyle.
The Performance Pack will be a factory-fitted option for models specified with a DSG dual-clutch automatic gearbox. Volkswagen's 'R-Performance' brake system – which uses lighter calipers finished in silver – is claimed to help with wear and improve on-track performance. The brakes weigh 2kg less than the system on the standard car and are more visible behind the larger, 19-inch 'Spielberg' alloy wheels.
Improved braking is especially welcome when the Performance Pack's removal of the Golf R's 155mph speed limiter is taken into account. An increase to 166mph for the hatchback and 168mph for the estate is claimed.
If you're ordering a Golf R hatchback, Volkswagen will now let you specify a new sports exhaust package developed by specialist Akrapovic. The £2,975 system is made from titanium and features round tips in place of the standard car's oval items. It also features a valve system that can control the sound in co-ordination with the Golf R's Eco, Normal, Sport and Race driving modes.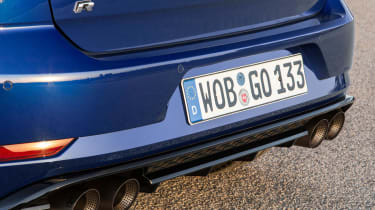 The only Golf R in the range that can be specified with both the Performance Pack and the new sports exhaust is a hatchback fitted with a DSG gearbox. Specified as such, the R's price climbs from £33,995 as standard to just over £39,000.