2018 Renault ZOE available to order now
The latest Renault ZOE costs from £18,420 with a more powerful motor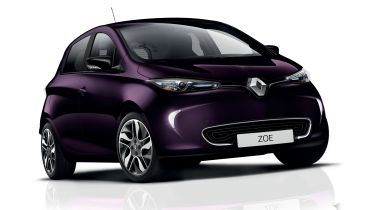 Renault has taken the wraps off the latest evolution of the ZOE, which it hopes will continue to be Europe's best selling electric vehicle. The new version starts from £18,420, with order books already open and Renault expecting the first deliveries this summer.
The updated ZOE packs a more powerful motor, an injection of new technology that promises to make it easier to live with and new colours to add a bit of showroom appeal.
Renault's latest R-Link infotainment system is now available, integrating smartphone technology and enabling passengers to access commonly used apps on the dashboard touchscreen. Renault hopes that this, along with the promise of more responsive motorway performance thanks to a more powerful 80kW electric motor, will help the ZOE to maintain its position as the best-selling electric car in Europe.
Over 100,000 ZOEs have been sold so far, worldwide. However, with an all-new Nissan Leaf as well as the talented Hyundai Ioniq Electric now among the increasingly stiff competition, the ZOE may find it tough to match its 2017 sales success – 44% more ZOEs were sold that year than during 2016.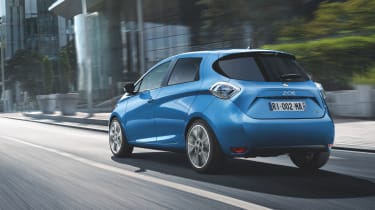 Power and range
The Renault ZOE is now available with a more powerful 80kW (107bhp) electric motor, an increase of 12kW (16bhp) over that previously offered. The extra power is claimed to help with acceleration at higher speeds – the new car will speed up to 120kph (74.5mph) from 80kph (49.7mph) two seconds quicker than before. This should make the ZOE more enjoyable to drive on faster roads such as motorways.
The new motor, dubbed R110 is the same size as the previous R90, which means it doesn't take up any more space, despite its increased power. Its weight hasn't increased, either, so acceleration in urban traffic is as brisk as before.
Although specific figures have yet to be announced, Renault says it's proud that the ZOE's headline range figures will be measured under the new WLTP (World harmonised Light vehicle Test Procedure), a more representative fuel-economy measurement system than previously used. It simulates driving at higher speeds and for longer distances than before and should more accurately calculate the electric range that drivers will experience in real life.
However, Renault also publishes its own 'real-world' range figure for the ZOE, which, at 186 miles, is unchanged from that of the less powerful electric motor.
Drivers who rely heavily on fast charging can also still opt for the current Q90 motor and Z.E.40 battery pack, with less power but the ability to charge from 0-80% in just over an hour using a 43kW charger.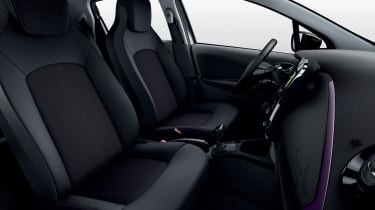 Technology and style
The ZOE now brings more choice for buyers. You can choose a new dark metallic purple Aconite body colour and a 'purple interior pack' is available with Dynamique Nav trim and beyond. This includes a violet satin finish for the dashboard trim and air vents, along with the gearlever and speaker surrounds. Black and violet interior upholstery completes the look.
A more advanced infotainment system is offered, too. Renault's R-Link system is familiar from other cars in the range and this 'Evolution' version incorporates Android Auto. This enables smartphone driving software such as the Waze navigation, Spotify and Tunein entertainment and Skype and Messenger communications apps to be accessed on the ZOE's touchscreen display.
Trim levels and options
The range of trims has been simplified somewhat: the Zoe R110 is available in Dynamique Nav and Signature Nav trim levels. The first offers hands-free entry and starting, automatic lights and wipers, rear parking sensors, cruise control, climate control and the R-Link system with TomTom sat nav.
Signature Nav adds leather upholstery, heated front seats, folding door mirrors, a reversing camera and a BOSE stereo.
A number of options are available, too, from 17-inch alloy wheels (£310) to blue and purple interior styling packs (£175), and metallic paint for £650. Choose the lower trim and you can also cherry-pick items like the BOSE stereo, reversing camera and heated seats – each costs £250.
Renault ZOE price and availability
Order books opened for the 2018 Renault ZOE in mid-March, with prices for the Dynamique Nav R110 Z.E.40 trim starting for £18,420, after the Plug-in Car Grant is taken into account. This requires you to lease the battery pack, but you can also buy it outright, increasing the cost to £24,020.