Exclusive: Vauxhall VXR isn't dead as hybrid power looks likely
Future performance Vauxhall VXR models will be 'more efficient' but still 'hardcore'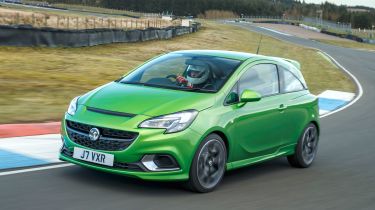 "VXR will survive" according to a Vauxhall brand spokesperson, as future Vauxhall VXR performance models look increasingly likely to get electrified powertrains with hybrid or plug-in hybrid technology instead of a "large engine capacity".
The Vauxhall Corsa VXR and Vauxhall Astra VXR are no longer available on Vauxhall's website, having fallen foul of the latest European emissions limits. Instead, Vauxhall is looking at alternative ways of increasing the performance of future VXR models without "six or eight cylinders and a turbocharger or two. It'll need more efficient power sources".
Carbuyer's best hot hatcbacks on sale now
Despite the shift in philosophy, Carbuyer was told that, "we haven't lost this sporting brand, and it will remain at the forefront of performance motoring in the mainstream". Fans will also see a clear differentiation between Vauxhall's recently launched GSi performance versions and VXR products, which "will always be a hardcore offering, with a jump in performance as well as very focussed dynamics".
Following the PSA Group's takeover of Vauxhall, its VXR model range dwindled to just the Corsa VXR hot hatch, but the VXR section of Vauxhall's website now offers no new cars for sale, just a link to 'Past VXR models'. Production of the V8-engined VXR8 super saloon ended in Australia in October 2017, as the outgoing Holden Commodore it was based on was replaced by a more economy-focussed new model based on the Insignia.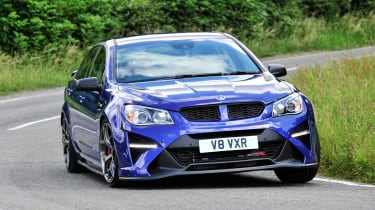 Some questioned if the VXR badge had been quietly consigned to the history books, but Vauxhall insists it is in a hiatus until new powertrains arrive. The PSA Group takeover will also bring significant changes, including a 2019 Vauxhall Corsa based on the PSA's CMP platform - the same underpinnings as the next Peugeot 208. This will spawn the first all-electric Corsa and Vauxhall has previously announced that it plans to offer an electrified version of every model in its range by 2024.
Until a new generation of VXR models arrives, GSi versions will "keep the sporting flame alive" with chassis upgrades that improve performance using the most powerful petrol and diesel engines available in the standard line-up. Thanks to the lighter weight and improved chassis of the new Insignia Grand Sport GSi, it was able to lap the infamous Nurburgring Nordschleife 12 seconds faster than the outgoing Insignia VXR, despite having 65bhp less power.
A Vauxhall Corsa GSi is also on the way this autumn, with suspension upgrades and 18-inch wheels similar to the now-defunct Corsa VXR, a sporty body kit and Recaro sports seats. While its engine hasn't been confirmed, it's likely to feature a turbocharged 1.4-litre petrol with 148bhp, making it less powerful than the VXR, but easier to insure for young drivers.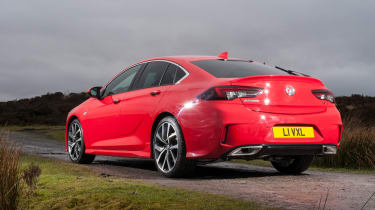 What does it mean for car buyers?
The takeover of Vauxhall by the PSA Group was always going to result in big changes for the famous British marque. PSA will be looking to make cost savings by moving Vauxhall products onto its own existing platforms and we're seeing this process already underway. The challenge for PSA is to make Vauxhall fit within its own group of brands, maintaining its identity and points of difference. Car buyers need to know what Vauxhall stands for under its new ownership and, as yet, that isn't quite clear.
It's a difficult task too, with Peugeot and Citroen in particular occupying a similar space to Vauxhall in the value-focused mainstream of the UK car market. If Vauxhall is to succeed, assets like the VXR performance brand could be important. The VXR cars have never quite topped the hot hatch or sports saloon classes in our view, but models like the impressive Peugeot 208 GTI by Peugeot Sport show that there's expertise within the group to give VXR a new lease of life and possibly help Vauxhall find its niche within the expanding PSA Group stable.