MINI Clubman: The Interesting Alternative (Sponsored)
With iconic MINI styling inside and out, plus go-kart-like handling, the family-friendly Clubman deserves a place on your shortlist

This is the MINI Clubman – a car that's all about style, space and performance. It's also ideal for family motoring, so whether you're looking for something with the latest technology, plenty of practicality, or a fun-to- drive personality, it's a model that demands attention.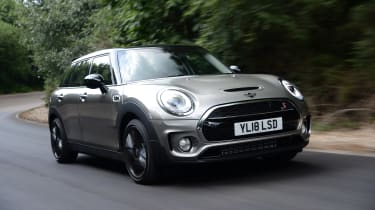 In fact, so rounded is its appeal that it can be considered a genuine alternative to the stalwarts of the premium family hatchback class. To put this to the test, we asked owners of three of the MINI Clubman's rivals to take a look and see whether it's a model that really could turn their heads and fit seamlessly into their lives.
The young family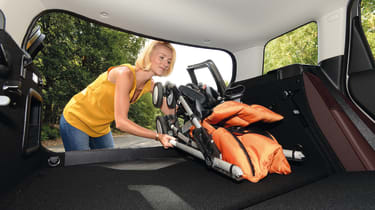 Name: ClaireAge: 35Lives: LondonCurrently drives: Audi A3 Sportback
First up was Claire. She currently has an Audi A3 Sportback S line, which she shares with her husband, Sam. They chose it because they really value a premium hatchback with sporty looks and a driving experience to match. But most importantly, they needed a car capable of transporting them and their two young children – plus buggies, school bags and all the other trappings of family life.
Claire took a Clubman Cooper S for a spin, and was impressed with the performance on offer, but it was the car's fun handling that really took her by surprise. She loved the cheeky looks, too. She told us: "We just like a car to look good and invariably that's the sporty model. I like this Cooper S. I think the mesh grille, large wheels and red 'S' badges give a really sophisticated look. It's clearly sporty but doesn't shout about it, and I really like that in a car."
But what we really wanted to do was to give her the opportunity to see how the Clubman stacked up against her current car in terms of space – and she took no time to install a child seat and load a buggy in the boot.
Claire said: "We need something we can throw stuff in quickly and a car that can put up with a bit of abuse, that's why we like the Audi. I can see the MINI is tough and built well. I think the split rear doors are a really neat touch and I love the way you can wave your foot under the bumper and the doors open automatically."
The brand loyalist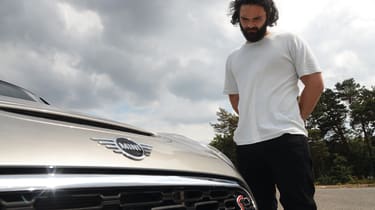 Name: NickAge: 37Lives: MaidenheadCurrently drives: Volkswagen Golf GT
Volkswagen Golf-owning Nick was shaping up to be the MINI Clubman's harshest critic. He's been a fan of the Golf for years, so it'll take something special for him to consider something else. He told us: "I've always owned Golfs and I grew up on them. My mum fell in love with the Golf GTI in the 1980s thanks to that famous Paula Hamilton advert, and it has kind of rubbed off on me. I just like the fact the Golf is classless, but it's a clear statement that if you own one, you value timeless design.
"But the Clubman looks great. It's certainly got some presence and would definitelyfit right in at the tennis club!"
We pointed out some of the design features, including some that link right back to the original Mini from the '60s, such as the rounded wings and cheeky front end, and some that are bang up-to- date, like the broad shoulders and strong stance.
Nick was instantly struck, telling us "It's still retro and I do like that. And that badge means something, doesn't it? Especially to me. If you drive a MINI you're telling the world you value style, fashion and you can personalise these, which I think is great.
"Having a car unlike any other is really great. I'm a big fan of the Golf, but I feel as though it may be time to have something that speaks a little more about my personality."
So the Clubman could be Nick's next car? "Maybe," he said. "Put it this way: I wouldn't have considered a MINI before, but I could see myself in a Clubman. It's stylish and retro but not overtly so like some other MINI models. Yeah... I like it."
The style-seeker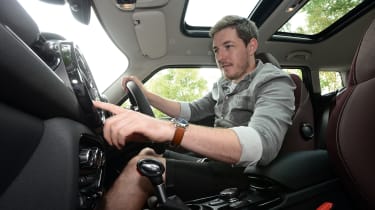 Name: JohnnyAge: 33Lives: CambridgeCurrently drives: Mercedes A220 CDI
As the owner of an interior design consultancy, Mercedes A-Class-driving Johnny will be putting the MINI Clubman's cabin under the most scrutiny. Interior design was the reason he originally chose the Mercedes and he reckons it still looks fresh today.
He said: "Interior design is a big thing for me and so is the level of technology a car has. I chose my A-Class several years ago because I really like the cabin."
But Johnny was instantly impressed when he climbed inside the Clubman. He said: "I must admit it does look great. Naturally for my next car I'm looking at the new Mercedes A-Class with its large screens, but the Clubman has a different feel. It feels really homely and something I could really learn to love."
MINI designed the Clubman's interior to provide a real sense of occasion, with the same level of quality and design MINI has always been famous for, but with a focus on usability. That means there's more space than in other models, but it retains features like the classic MINI design touch, the central instrument binnacle.
Johnny told us that good interior design is as much about usability as aesthetics, so he immediately felt right at home. He said: "I'm pretty taken with this. It's stylish and looks retro without being a pastiche. The controls are easy to use, and I'm really getting used to the touchscreen to operate the sat nav and other gadgets. It's a real step on from just having the rotary controller that I'm used to in my own car. The coloured mood lighting is a lovely touch, too".
Complete our short survey for a chance to win £100 of Halfords vouchers