New engines for Mercedes E-Class and CLS
Mercedes introduces new petrol, diesel and electrified engines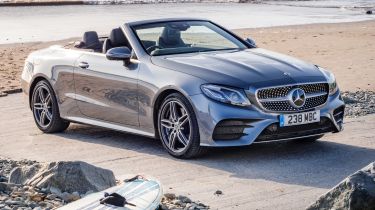 Mercedes has introduced a range of new diesel and electrified petrol engines for the E-Class Coupe and Cabriolet,added an entry-level petrol engine to the Mercedes CLS four-door coupe and a new diesel engine for the E-Class All-Terrain estate.
New Mercedes E-Class engines
Seen already in the Mercedes CLS, the E 450 is a six-cylinder petrol engine that uses the brand's EQ Boost technology. This 'mild hybrid' system uses a 48v 'starter generator' to augment engine power, providing an extra 21bhp when it's needed. It also claims to reduce fuel consumption by allowing more frequent stop-start operation, cutting the engine when power isn't needed.
The 362bhp engine is combined with Mercedes' 4MATIC four-wheel-drive system and replaces the E 400 4MATIC in the E-Class Coupe and Cabriolet range. Mercedes claims up to 32.1mpg for the E 450 Coupe and 31.7mpg for the convertible, although a CO2 emissions of 202g/km means business drivers will face the maximum 37% rate of Benefit-in-Kind company-car tax. Acceleration from 0-62mph is claimed to take 5.6 seconds in the Coupe, and 5.8 in the Cabriolet.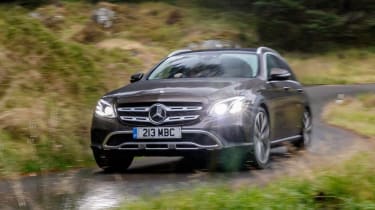 Those who prefer diesel power can choose a new E 400d 4MATIC model, which replaces the E 350d in both the Coupe and Cabriolet. This inline six-cylinder engine produces 335bhp, which is claimed to take the Coupe from 0-62 mph in 5.1 seconds, with the Cabriolet following by a tenth of a second. Mercedes claims 45.6mpg is possible, with 162g/km CO2 emissions resulting in a 34% BiK rating.
The E-Class All Terrain estate also gains the E 400d diesel engine in place of the outgoing E 350d. It enables a reduced 0-62mph time of 5.4 seconds, returning a claimed 44.1mpg and emitting 168g/km of CO2 for a 36% BiK rating. Standard equipment has been boosted, too, and now includes the Air Balance fragrance system, wireless phone charging and a 360-degree camera.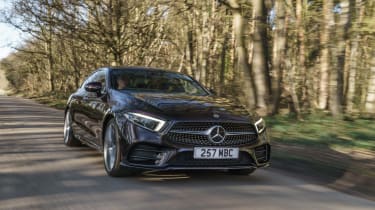 New Mercedes CLS 350 petrol engine
The Mercedes CLS four-door coupe has been given a new entry-level model, the first four-cylinder engine yet to be offered in the range. The turbocharged 2.0-litre petrol engine is identified by CLS 350 badging and produces 217bhp. That's enough for a claimed six-second 0-62mph time, and Mercedes says 39.8mpg is possible. Meanwhile, 162g/km CO2 emissions mean a 31% BiK rate for business drivers.
Pricing and availability
The new engines are available to order now, with deliveries expected to commence in October. The E 400 4MATIC Coupe and Cabriolet are priced from £50,900 and £55,395 respectively, with the E400d 4MATIC diesels priced at £53,685 and £58,180. The E 400d All-Terrain costs £63,335, and the CLS 350 is priced at £52,625.