Mercedes V-Class Marco Polo review
The V-Class Marco Polo is a worthy rival to the iconic VW California camper van
Since the year dot, the Volkswagen California has been just about your only choice if you wanted to buy a manufacturer-built camper van, rather than a third-party conversion. Mercedes has clearly been eyeing the California's success over the years, because the V-Class Marco Polo has now been introduced as a direct rival to the iconic VW.
Offering up to four berths for the night, it's about as luxurious as four-wheeled camping gets, with features including a kitchenette, fridge, hob, wardrobe and an optional heater to keep the interior warm through frosty nights. It can even be activated from the key fob or programmed to come on at certain times.
Carbuyer's best large MPVs on sale now
Upon arrival at your stop for the night, it's easy to convert the Marco Polo into your accommodation. The front seats swivel to face the rear, the back seats easily convert to a bed, and the standard electric roof raises in just 30 seconds to provide the second double bed. There's even an LED light up there so you can navigate your way to bed on a moonless night, or read a book.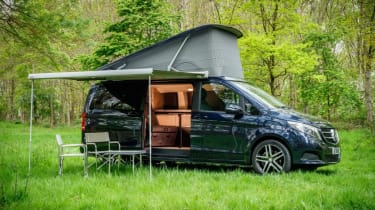 Power comes from one of two diesels badged V 220d and V 250d with 161 or 187bhp respectively. Both have identical CO2 emissions of 182g/km and fuel consumption of just over 40mpg, but the more powerful version cuts the 0-62mph time from 11.8 to 9.7 seconds. Weighing the best part of two-and-a-half tonnes, we're not suggesting you'll be racing hot hatches away from the lights, but this extra oomph makes the Marco Polo V 250d feel rather more relaxing to drive if your budget can stretch to it.
More reviews
In-depth reviews
Its weight - and the teacups in the cupboard - mean the Marco Polo certainly isn't a car to be driven in anger, and it's suspension and seven-speed automatic gearbox are set up accordingly. Prioritising comfort, its soft springs work best if you drive smoothly, and you'll soon realise it's a good idea to leave extra stopping time to avoid braking too abruptly. The steering is smooth but slow enough to remind you that the Marco Polo is rather a big vehicle. We'd certainly recommend the 360-degree camera to help with parking and tight spaces - it'll feel like £350 well spent.
Read our in-depth Mercedes V-Class MPV review
Meander gently to your next destination and, like the California, there's an optional awning in black or silver under which you can set up camp. To get started, a camping table and two chairs are included as standard with their own carry bag. Even in standard Sport trim, the Marco Polo doesn't want for much, with the same wooden flooring you'll find in a luxury yacht, 18-inch alloy wheels, Garmin sat-nav, leather upholstery and ambient lighting. AMG Line adds 19-inch two-tone wheels, a body styling kit, chrome trim, sports suspension and even a carbon-fibre style dashboard.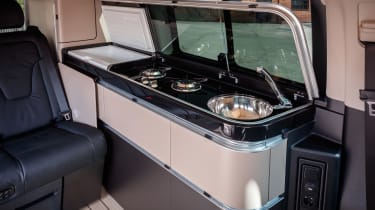 Verdict 4/5
The Mercedes V-Class Marco Polo is sure to steal some sales from the California because in many ways it feels even more luxurious. Potential owners will need to be rather well-heeled because even the entry-level V220d Sport version costs more than £56,000. Choose the V250d in AMG Line and you'll be spending over £60,000, before factoring in an awning or bike rack. That's a lot of stays in a hotel but the Marco Polo should at least have the desirability to hold onto its value reasonably well.