BMW 2 Series Active Tourer MPV review
"The latest BMW 2 Series Active Tourer hides the latest technology under familiar styling"
Pros
Slick infotainment
Great material quality
Practical rear seats
Cons
Boot could be larger
Not as good to drive as other BMWs
No climate control buttons
BMW surprised many people when it launched the first 2 Series Active Tourer, but this new version isn't so much of a shock. SUVs may seem to be taking the place of many MPVs, but over 400,000 examples of the car have been sold to date, mostly in Europe.
In fact, it's a surprisingly important car for BMW, because the brand claims that four fifths of buyers of the last-generation car had never bought a new BMW before. It's the reason that a second-generation model was launched, even if MPVs are about as fashionable as avocado bathroom suites these days.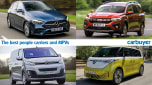 Top 10 best people carriers and MPVs 2023
That's also why the new BMW 2 Series Active Tourer looks broadly similar to the previous car, save for a fresh set of larger front grilles, flush door handles and a general spruce-up. Some of the engine range is familiar, too, but the overhaul is far more pronounced than it first appears. A new platform underpins the car and the very latest technology has crept inside.
Despite being one of BMW's less expensive models, the new 2 Series MPV has the brand's latest infotainment system – being the first BMW with an engine to feature this tech, as it's previously only featured on the BMW iX and BMW i4. It looks very glossy, with two large screens curved towards the driver, and you'll notice that the centre console is a lot less cluttered than in the old car.
The rear seats individually slide and fold, which makes the 2 Series Active Tourer a little more versatile than the Mercedes B-Class, its closest rival. Another option is the seven-seat Volkswagen Touran, but there won't be a seven-seat BMW 2 Series Gran Tourer this time around. The stretched Gran Tourer perhaps pushed the BMW badge too far, so buyers looking for seven seats may have to pick a Mercedes GLB or something like a Skoda Kodiaq.
If you decide the 2 Series Active Tourer is the car for you, there are three trim levels to pick from. Sport starts the range, with sat nav, LED headlights and a reversing camera. Luxury and M Sport lines should give you an idea of each one's focus, and the latter features bigger wheels and adaptive suspension.
UK buyers especially love the M Sport trim for its racy looks, but that doesn't translate to a people carrier that's as fun to drive as a sports car. The 2 Series Active Tourer prioritises space over driving thrills, as it should, and the steering is very light.
It can be quick off-the-line, though. Even the lowest-powered petrol, badged 220i, reaches 0-62mph in around eight seconds, and above that is a more powerful 223i petrol and two high-output plug-in hybrid models. Before it was discontinued in 2023, there was also a diesel model available, the 218d, which returned fuel economy of 57.6mpg. The 220i petrol returns around 10mpg less.