Euro NCAP awards Tesla Model S five stars
Tesla's saloon one of six cars to be assessed in Euro NCAP's latest round of crash tests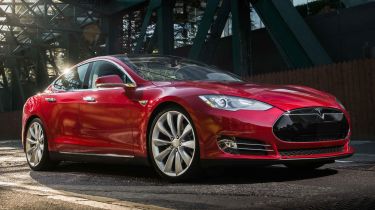 The Tesla Model S has been awarded the full five stars by Euro NCAP after the independent safety body carried out its latest round of crash tests.
The Model S was one of four cars to achieve the maximum rating, with the BMW 2 Series Active Tourer, Skoda Fabia and Nissan Pulsar also receiving five stars.
Tesla's executive saloon scored well across all four assessment categories, getting 82% for adult occupant protection, 77% for child occupant protection, 71% for safety assist and a slightly lower 66% for pedestrian protection.
The five-star rating puts the Model S on a par with rivals like the BMW 5 Series, Audi A6 and Mercedes E-Class, which all achieved five stars when they were tested. Although their individual category scores are higher than the Model S, it is worth remembering that the Euro NCAP tests are becoming more and more stringent.
The Nissan Pulsar was the best all-round performer out of the six cars put through their paces, while the BMW 2 Series Active Tourer scored the highest for an individual category with 85% for child occupant protection.
The Suzuki Celerio, the Japanese manufacturer's budget city car, was only given three stars. This was largely due to the absence of a curtain airbag on the cheapest models, which contributed to an adult occupant protection score of 61%, and a score of 38% in the safety assist category. By way of comparison, the rival Hyundai i10, which was tested earlier this year, scored 79% for adult occupant category and 56% for safety assist. Since the results were released, Suzuki has made it clear that UK specification Celerios will come with curtain airbags as standard, which is not reflected in the car's Euro NCAP rating, and pointed out that the car scored very highly in both the side barrier impact and front impact tests.
The sixth car to be tested in the most recent round of crash tests was the Renault Megane, which had previously been dropped from five stars to three. Euro NCAP has bumped the Megane's score up to four stars following the reassessment, which was undertaken after Renault made changes to some of the car's safety kit.
To learn more about the Euro NCAP crash tests, read our article here: Euro NCAP: How safe is my car?