Renault Twingo axed from UK range
Twingo withdrawn from sale in UK as Renault streamlines range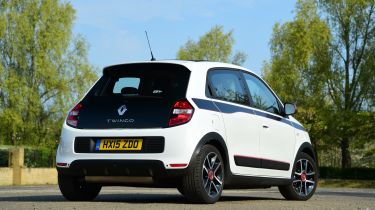 Renault has confirmed that it's axing the Twingo supermini in the UK. Dealerships will be selling off stock in the coming months and the facelifted model won't arrive in UK showrooms afterwards.
That will signal the end of the road for one of the quirkiest city cars on sale, which set itself apart from rivals with a rear-engined layout. While this sadly didn't imbue the Twingo with Porsche 911-style handling, it improved interior space for passengers and gave the Twingo a rather neat trick. With no engine between the front wheels, the Twingo had a turning circle to rival a Black Cab. That made the French hatch very well suited to the city.
Customers saving up for a Twingo will either need to dash to their closest Renault dealership to snap up a late example or find their local Smart retailer instead, as the Twingo is closely related to the Smart Fortwo. It might be difficult to believe given the striking design differences, but underneath there's the same basic underpinnings, rear-wheel drive chassis and 1.0-litre or 0.9-litre turbocharged petrol engines. For performance fans there's even a Brabus version with 108bhp, giving it a peppy power-to-weight ratio, or in stark contrast, the zero-emissions Smart EQ Fortwo with an electric motor and battery pack.
Renault's decision comes as the rest of Europe is set to welcome the facelifted Twingo, which will benefit from a new infotainment system and updated engines. However, the Twingo has proved a slow seller in the UK, where crossovers like the Renault Captur are much more popular.