Volkswagen California Beach review
If you're after a factory-built camper van the Volkswagen California Beach offers good accommodation but at a high price
Mention the words 'camper van' and chances are the images conjured up will involve a Volkswagen in some shape or form, most likely the iconic surf culture model that was so popular in the 1960s and 1970s. Times have moved on a little since those halcyon days, but Volkswagen remains as one of the few car manufacturers still offering a camper van in its model line-up. These days it's based on the Transporter van and still offers buyers the notion that they can drop everything and head off to the beach for a weekend's camping should the mood take them.
Two main models are offered; the entry-level California Beach version and the more expensive and comprehensively equipped Ocean model. We'll focus on the Beach model here, as it's considerably cheaper than the Ocean version, offering enough of a weekender-camping experience for most buyers.
So, what do you get for your money? In Beach trim, prices start at just over £47,000 and you get five-seats and two double beds – one of which is in the California's pop-up roof structure. There are no cooking or washing facilities; if you want these, you'll need to spend an additional £10,000 on the Ocean model.
There are, however, plenty of clever storage bins, a fold-down dining table in the sliding door, as well as an optional exterior awning under which you can relax in the two chairs that are normally stowed in the tailgate. For a weekend away at a campsite, the Beach has just about everything you need. But if you were heading off the beaten track, you'd find the Beach's lack of cooking or water storage facilities a bit of a bind.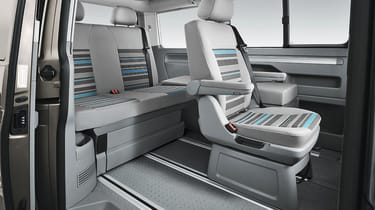 The experience of actually driving to your holiday destination won't be too much of a chore because the Beach has a decent 2.0-litre diesel engine combined with a seven-speed DSG gearbox, and handles competently. It'll never win a race away from the lights but once it's on the move it copes well with motorways, and the high driving position and all-around windows offer excellent visibility. There's also plenty of additional stowage space for odds and ends around the cockpit as well. Refinement levels are good and on the road the California Beach is almost as quiet as the company's passenger cars.
The Beach has a reasonable amount of equipment – Bluetooth, DAB radio and air conditioning are included as standard – but you'll have to pay extra if you want such luxuries as climate control or sat nav. There are some neat touches – both front seats will swivel through 180-degrees to face those in the rear, making the interior more of a living space when camping, and there's an auxiliary heater to keep the chill out too. You'll also find a 240v socket to plug in domestic appliances such as a kettle but the California needs to be plugged into a campsite power supply for this feature to work.
Verdict 3/5
As a way to get away from it all for a weekend's camping without the effort of putting up a tent, the California Beach makes quite a good case for itself. It's reasonably equipped and should provide decent sleeping accommodation for four. However, with no cooking or washing facilities it is a little limited when compared to the more expensive Ocean model.