Tesla slashes Model S and Model X prices by up to £50,000
Top-spec models are now considerably less expensive, which has angered recent buyers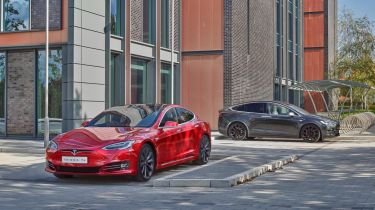 Over the weekend, Tesla suddenly changed its specifications and pricing for the Model S and Model X. Some variants now cost up to £50,000 less than they did last week. While that's excellent news for prospective owners, many recent buyers are very unhappy.
The price change accompanies new specifications for the Model S and X. Instead of using numbers and letters to signify the hierarchy (previously, P100D was the top model), the ranges now consists of Standard Range, Long Range and Ludicrous Performance models. These are similar in spec to the old models but in some cases represent enormous price drops.
Ludicrous Performance versions of the Tesla Model S saloon hit 60mph from a standstill in just 2.4 seconds and will go for over 380 miles on a charge. They are effectively renamed P100D models, yet start at £83,300 whereas the P100D retailed at £131,305. That's an instant price drop of over £48,000.
Tesla has dropped prices across the Model S range. The Long Range version, which costs £76,000, has replaced the £93,205 100D car, while the Standard Range version starts at £72,000 - a drop of £2,405 over the previous entry-level version. Standard Range cars manage 270 miles and a 0-60mph time of 4.2 seconds, while Long Range versions offer 335 miles of range and are a tenth of a second quicker to 60mph.
If you bought the range-topping Tesla Model X SUV last week, you would have paid £137,705. Now, the Ludicrous Performance model starts at £87,200, which represents a drop of £50,505. Tesla forums have been inundated with disgruntled customers, with some even threatening to sue the California company.
Tesla boss Elon Musk has tweeted that customers who purchased their car before the price reduction are eligible for half-price Autopilot and Full Self-Driving capability, saving $6,000 on list price if both are bought.
Tesla hasn't confirmed why it has slashed the prices of its top models almost without warning, but it could be due to the emergence of new rivals. The Audi e-tron and Jaguar I-Pace are just two of the electric SUVs that provide alternatives to the Model X.
Read our reviews of Tesla models here and see where the Model S features on our list of most innovative cars.