Volkswagen Touareg gets flagship 3.0-litre V6 petrol engine
335bhp engine is available on all three trim levels and is well suited to towing
Volkswagen Touareg buyers now have a petrol option after VW added a 3.0-litre V6 engine to the range. The petrol Touareg becomes the most expensive variant in the range at £52,635 in SEL trim. Order books are open now, with deliveries scheduled for April.
The 3.0-litre V6 engine produces 335bhp and provides VW's largest SUV with hot hatch straight-line speed. Under hard acceleration, 0-62mph takes just 5.9 seconds - the same as a Honda Civic Type R. It's also the only engine in the range that can get the Touareg to a top speed of 155mph.
The cars with the biggest boots
The engine produces 450Nm of torque available from just 1,340 rpm, which should make for effortless overtaking and towing. Helping to manage all the car's power is a limited slip differential and VW's 4MOTION all-wheel-drive system, which are both fitted as standard.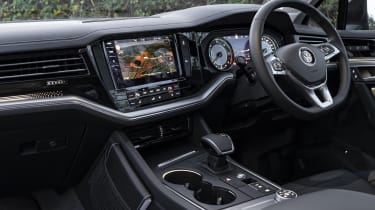 The petrol V6 Touareg won't be the option to go for if you're conscious of fuel costs; official economy stands at 31.7mpg on the combined WLTP cycle. CO2 emissions of 203g/km mean it's not a good choice as a company car either. The petrol Touareg does, however, offer the same 3.5-tonne towing capacity as the V6 diesel engine.
In SEL trim, the V6 petrol engine costs £52,635, rising to £56,135 and £59,235 if you choose the R-Design or R-Design Tech trim levels respectively. Across the range, the petrol is around £3-4,000 more expensive than the 228bhp diesel, and around £1,000 more than the 282bhp diesel.
Read our guide to the best large SUVs or, if you need a luxurious seven-seat SUV, read our Audi Q7 review.