Skoda Karoq SE L review
Should you stick with the entry-level Skoda Karoq or upgrade to SE L trim?
The Skoda Karoq is the company's smallest SUV, and follows in the wake of the seven-seat Skoda Kodiaq. It effectively replaces the Skoda Yeti and, while it's not quite as characterful as that car, it makes up for it with a more upmarket interior, better practicality and better dynamics. It's a popular choice in the family SUV class but faces stiff competition from the Peugeot 3008, SEAT Ateca and Kia Sportage.
As Skoda is part of the VW Group, the Karoq gets access to Volkswagen's engine range. Five engines are available to Karoq buyers (two diesels and three petrols), and all but the most powerful petrol engine are available on the SE L trim. We've picked the SE L trim out because it offers the best value in the range. It's placed above entry-level SE spec but below the rugged Scout, the racier Sportline and the expensive Edition models. The Peugeot 3008 in an equivalent trim level costs about £1,200 more than the Karoq SE L's starting price of £24,555.
The Karoq makes most sense in the lower two trim levels, and choosing SE L over SE gets you sat nav, heated front seats, front and rear parking sensors, a reversing camera, keyless entry, LED headlights and 18-inch alloy wheels. It also gains the clever VarioFlex seats, which can be slid forwards and backwards to offer more space for passengers or luggage, plus floor mats and a storage space under the seat.
That's on top of the well equipped SE spec, which includes cruise control, two-zone climate control, DAB radio, Bluetooth, auto headlights and wipers, and emergency braking. You might decide that SE is sufficient but it's worth looking at SE L, as it's not too much more expensive and may increase the car's value when you come to sell it. Adding the VarioFlex seats also makes it a more versatile car, maximising its flexibility and family-friendliness.
You can choose from a variety of options that include a panoramic sunroof, a digital instrument cluster and Dynamic Chassis Control, but these are rather expensive and, for most, aren't worth the extra money. However, some of the options are much cheaper, so you might see the benefit in things like a heated steering wheel, heated rear seats, blind-spot detection, the family pack and adaptive cruise control.
Our test car came with the 1.6-litre diesel engine with 113bhp, mated to the standard setup of front-wheel-drive and a six-speed manual gearbox. It's good for 0-62mph in 11 seconds and 48.7mpg, and is a fine choice for higher-mileage drivers. There's also a 148bhp 2.0-litre diesel that offers similar fuel economy and a nine-second 0-62mph time but, unless you cover more than 12,000 miles a year, we'd recommend sticking with the 113bhp 1.0-litre petrol engine, as it's almost £2,000 cheaper. Acceleration from 0-62mph takes a reasonable 10.6 seconds, and it'll return just under 43mpg with the manual gearbox. With its low carbon dioxide output, this engine's also the best option for company-car drivers.
The Karoq is nearly as good to drive as the SEAT Ateca but, crucially, it's more comfortable thanks to slightly softer suspension. Big potholes won't be so jarring in the Skoda, and it still corners nicely without too much body roll. Visibility is good, and there's little wind or tyre noise at speed.
Skoda's SUV also impresses with a fairly luxurious interior - especially in SE L, with its half-leather and suede upholstery - and the Karoq features more soft-touch materials than the Ateca. It really benefits from VW ownership, as the build quality is up there with a Volkswagen Golf, and the technology is intuitive and familiar.
Skoda is thought of as the practical arm of the VW Group and the Karoq delivers on this with lots of headroom in the front and rear. Legroom in the back could be better but you can improve it with the SE L's VarioFlex sliding seats. The boot is easily big enough for normal family stuff, and there are lots of clever touches like a removable torch and 12V socket in the boot, an ice scraper in the fuel filler cap and an umbrella under the passenger seat.
Verdict: 4.5/5
The Skoda Karoq is one of the best family SUVs, and it undercuts the price of the Peugeot 3008 even in SE L form, which offers all the luxuries you'd ever wish for. We doubt you'll be disappointed if you go for the slightly less expensive SE model but upgrading to SE L adds really useful extras and doesn't cost a lot more. Plus, most drivers will be happy with the 1.0-litre petrol - if we'd tested the SE L with this engine, it'd get a full five stars.
Read our Skoda Karoq review and see why it's top of our list of best used SUVs.
Best used SUVs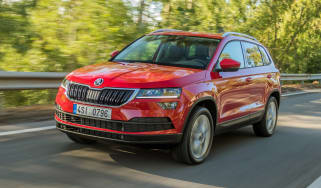 Cupra Formentor SUV review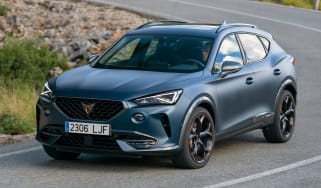 Cupra Formentor SUV review
2020 Volkswagen ID.3 hatchback: base model starts at under £30k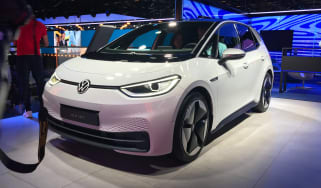 2020 Volkswagen ID.3 hatchback: base model starts at under £30k
Audi Q8 gains plug-in hybrid versions with 28-mile electric range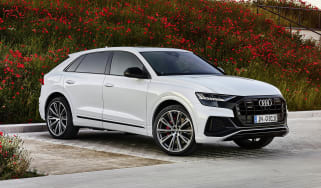 Audi Q8 gains plug-in hybrid versions with 28-mile electric range