Best new cars coming in 2021 and beyond
What can you expect to see in showrooms in the next couple of years? Our guide reveals all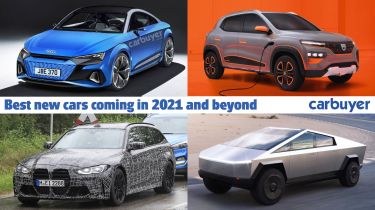 Page 4 - Coupes, convertibles, saloons and estates
Coupes and convertibles coming in 2021
BMW 2 Series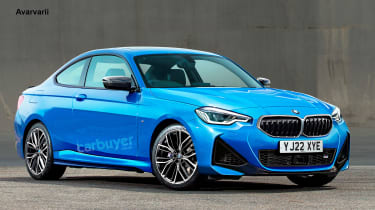 Unlike the new BMW 1 Series, the next-generation 2 Series will stick with rear-wheel drive. Some models will be available with a manual gearbox, including the next BMW M2 coupe. The interior will be shared with the 1 Series, however.
Read more about the new BMW 2 Series here.
BMW M4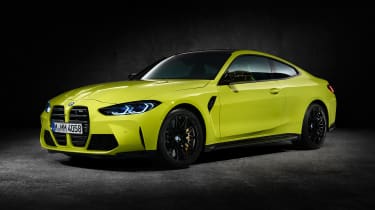 The BMW M4 will follow the new 4 Series into showrooms into 2021 alongside the new M3. Up to 503bhp is promised from a 3.0-litre twin-turbo engine. It'll have all-wheel drive for the first time but you'll be able to send all the power to the rear wheels in certain driving modes.
Read more about the new BMW M4 here.
Mercedes SL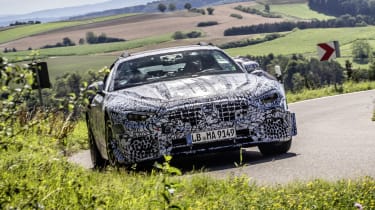 A new Mercedes SL is coming next year, and it'll take the place of the Mercedes S-Class Cabriolet at the top of the brand's range. A fabric roof will be fitted, rather than a metal one, and the SL will be developed by AMG to make it better to drive than the current model.
Read more about the new Mercedes SL here.
MG e-Motion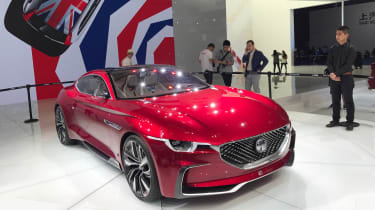 MG is reportedly working on a sporty new coupe model. It'll be electric, like the ZS EV, and may cost around £30,000. That would undercut all its rivals, yet the MG e-Motion would still offer over 300 miles of range and a very sports car-like 0-62mph time of four seconds.
Nissan 370Z successor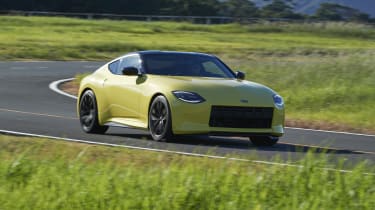 Despite slow sales, Nissan seems keen to carry on its 'Z' sports car lineage; a development model of a successor to the 370Z has been spotted testing at the Nurburgring. The model, likely to be called '400Z', has since been previewed by this Nissan Z-Proto concept. Very few components will be carried over from the current 370Z, which has been on sale almost unchanged for over a decade. However, it looks like this new model won't be coming to Europe.
Read more about the Nissan 370Z successor here.
Porsche 911 GT3 RS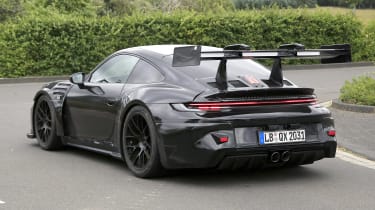 The Porsche 911 is due to get a hardcore GT3 RS model with a vast rear spoiler, judging by these spy shots. It'll also be subjected to weight-saving measures and will feature sticky track tyres, not to mention a 500bhp naturally aspirated engine.
Read more about the Porsche 911 GT3 RS here.
Saloons and estates coming in 2021
Alfa Romeo Giulia Quadrifoglio GTA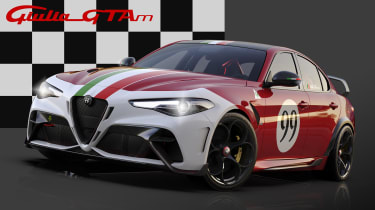 In standard form, the Alfa Romeo Giulia Quadrifoglio saloon is less expensive than its main rivals but you can pay nearly £100,000 more than a regular Quadrifoglio for the new GTA and GTAm models. They're limited to 500 cars, and both get a power hike and lots of carbon-fibre trim.
Read more about the Alfa Romeo Giulia Quadrifolgio GTA here.
Audi e-tron GT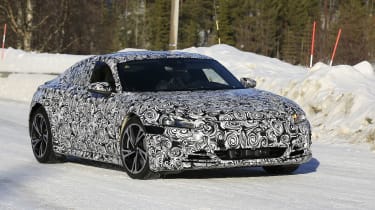 After the e-tron SUVs, Audi will reveal a swoopy electric e-tron GT four-door coupe to rival the Tesla Model S and Porsche Taycan. A six-figure price tag is likely, and there should be as much power as an Audi R8 supercar.
Read more about the Audi e-tron GT here.
BMW i4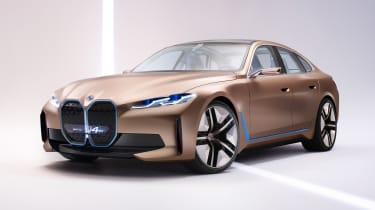 BMW promises a range of up to 372 miles for the i4, a swoopy four-door saloon that's a similar size to the BMW 3 Series. A large battery pack ensures sports car-like performance; power stands at 523bhp and 0-62mph is dealt with in just four seconds. The i4 will also feature level 3 autonomous driving technology - the car will be able to drive itself (where permitted) but you'll still be able to take control when you want. An electric 3 Series will also launch in 2021.
Read more about the BMW i4 here.
BMW M3 Competition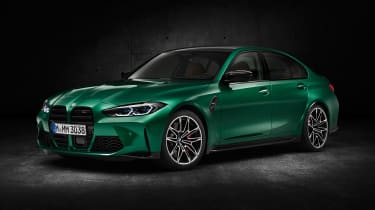 The BMW M3 and M4 have now been unveiled. All UK M3s will be in Competition spec, which gets more power than the base model and an automatic gearbox as standard. Four-wheel drive will be available for the first time.
Read more about the new BMW M3 here.
Mercedes C-Class estate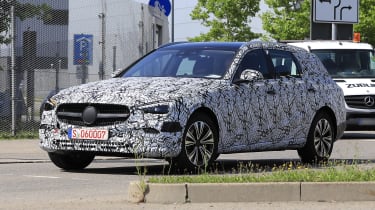 The new Mercedes C-Class estate has been spotted testing before it goes on sale in 2021. Prices are set to start from around £35,000 and the new C-Class will bear some resemblance to the latest Mercedes E-Class. The diesel engines are likely to have mild-hybrid technology to reduce emissions, and there'll be several plug-in hybrid versions.
Read more about the Mercedes C-Class estate here.
Mercedes-AMG C43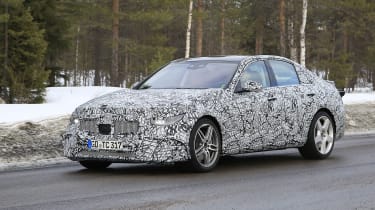 Mercedes is already working on a faster version of the next-generation C-Class, and this C43 model will sit below the flagship C63. It'll still have over 400bhp, though, and with four-wheel-drive 0-62mph will be dispatched in around 4.5 seconds.
Read more about the Mercedes-AMG C43 here.
Mercedes-AMG GT 73 EQ Power+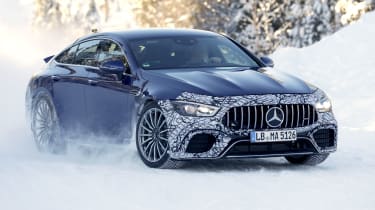 The Porsche Panamera has employed hybrid power on its fastest models for a little while now, and the rival Mercedes-AMG GT 4-door looks set to join it. Speed will still be top priority, as the powertrain is expected to produce nearly 800bhp and result in a 0-62mph time under three seconds.
Mercedes-AMG E63 facelift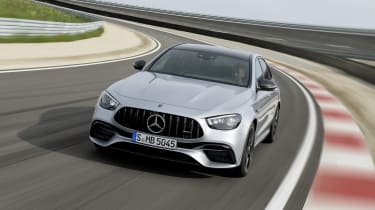 This is the facelifted Mercedes-AMG E63. Thanks to a 4.0-litre twin-turbo engine, the saloon and estate pair will produce over 600bhp, while we expect mild-hybrid technology to be fitted to slightly reduce fuel consumption.
Read more about the new Mercedes-AMG E63 here.
Peugeot 508 PSE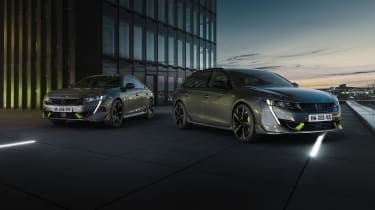 A fast plug-in hybrid Peugeot 508 is set to top the range next year, having been recently confirmed for production. The Peugeot 508 Sport Engineered is available in both fastback and estate body styles, packing 355bhp and a 5.2-second 0-62mph time. You can also travel for 26 miles on electric power, and the Peugeot Sport Engineered cars get extra equipment over a standard 508.
Read more about the Peugeot 508 Sport Engineered here.
Porsche Taycan Cross Turismo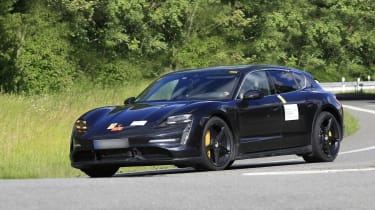 The Porsche Taycan range is set to expand next year with the introduction of the Cross Turismo estate. It'll be an indirect rival to performance estates like the Audi RS6 and new Mercedes-AMG E63, while offering more practicality over the Taycan saloon. We'd expect the Cross Turismo to get the same powertrain options as the saloon, with the entry-level 4S model likely to be capable of 0-62mph in around 4 seconds. The flagship Turbo and Turbo S models will be quicker, taking around three seconds to achieve 62mph from a standing start.
Read more about the Porsche Taycan Cross Turismo here.
Volkswagen ID. Space Vizzion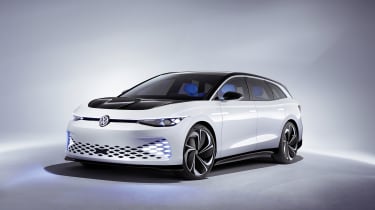 The Volkswagen ID. Space Vizzion is an estate version of the ID. Vizzion saloon, due in a couple of years' time. It's slightly bigger than a Volkswagen Passat Estate, and has a large 82kWh battery. The stats look promising; 367 miles of range, 335bhp and 0-62mph in 5.4 seconds. Just like the Ford Mustang Mach-E, the doors are opened digitally.
Read more about the Volkswagen ID. Space Vizzion here.
Volkswagen Golf R estate
A new version of the Volkswagen Golf R estate is due next year. It'll get racy styling upgrades and a more powerful engine, while four-wheel drive and an automatic gearbox will be standard once more.
Read more about the new Volkswagen Golf R estate here.
Page 4 - Coupes, convertibles, saloons and estates
Cupra Formentor SUV review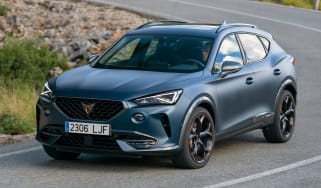 Cupra Formentor SUV review
2020 Volkswagen ID.3 hatchback: base model starts at under £30k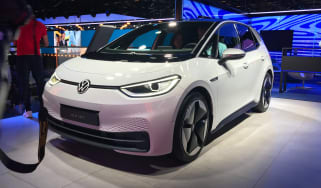 2020 Volkswagen ID.3 hatchback: base model starts at under £30k
Audi Q8 gains plug-in hybrid versions with 28-mile electric range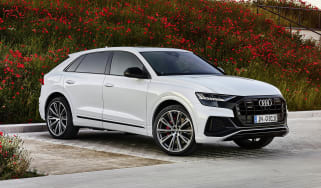 Audi Q8 gains plug-in hybrid versions with 28-mile electric range