Ford Galaxy MPV (2006-2015) - Engines, drive & performance
Go for the 2.0-litre diesel Ford Galaxy and you get a decent blend of performance and fuel economy
The Ford Galaxy is more fun to drive than anything rival manufacturers can offer. The steering gives you lots of confidence and the suspension resists body lean admirably, while also ironing out bumps in the road. Were it not for the Ford S-MAX, the Galaxy would be the most fun-to-drive MPV there is.
Pull off the open road and into a city centre and the Galaxy remains easy to handle thanks to its light steering. An extra quarter-light window placed in the windscreen pillar gives you added visibility at a point where some models suffer from a large blind spot. Thanks to the car's raised driving position, manoeuvring is relatively easy, while much of the pain of parking is avoided by the car's standard front and rear parking sensors.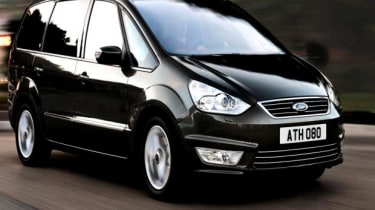 Ford Galaxy diesel engines
Of all this car's engines, we'd recommend the 138bhp 2.0-litre diesel, which has enough power to get the Galaxy from 0-62mph in just 10.6 seconds. It feels much faster than the 1.6-litre diesel, which completes the same sprint in 13.4 seconds. The fastest 2.0-litre diesel can get you from 0-62mph in 9.8 seconds, while the 2.2-litre diesel knocks a further second off that time.
Ford Galaxy petrol engines
With a top speed of 135mph, the 2.0-litre turbocharged EcoBoost petrol is the fastest Galaxy all, but its performance will be hard to enjoy as you watch the fuel gauge drop worryingly quickly. This model's 0-62mph time matches the 2.2-litre diesel's, but it can't compete with the diesel's mid-range shove, which makes for effortless motorway overtaking. The other petrol option is a 158bhp 1.6-litre EcoBoost engine. It's more economical than the 2.0-litre model, but the Galaxy's bulky body restricts its performance. The 0-62mph run takes 9.9 seconds, while a top speed of 125mph translates to quiet motorway cruising. Counting in the basic petrol model's favour is its low list price, which could make it a sensible choice if you don't do many miles a year.