Ford Galaxy MPV (2006-2015) - MPG, running costs & CO2
The Ford Galaxy can be specified with a 2.0-litre diesel engine that provides good power and fuel economy
If you're looking for performance from your Ford Galaxy and aren't bothered about big bills, then the 2.0-litre petrol is a decent engine, but it can't compete with diesels when it comes to low running costs. Fuel consumption is pretty heavy at 34.9mpg, while CO2 emissions of 189g/km mean road tax will cost £265 every year.
The most economical Galaxy is the 1.6-litre diesel model, which can achieve 54mpg and costs £130 to tax annually. However, it's quite slow, so we'd recommend going for the mid-range 2.0-litre diesel. It feels significantly quicker and can still return 53.3mpg and has CO2 emissions that mean road tax will cost £145 a year. There's also a 2.2-litre diesel option, which matches the 2.0-litre petrol's performance, but can achieve 41.5mpg economy.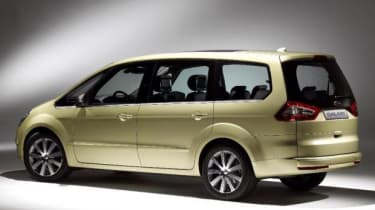 Ford Galaxy servicing
Keeping your Galaxy well maintained should be easy thanks to the company's huge dealer network and affordable service costs. Ford's Protect Premium plan lets you make a one-off payment for the servicing of your new Galaxy. Prices start at £390 for two services and £690 for three – the latter including one major service.
Ford Galaxy used values
The Ford depreciates quicker than the Volkswagen Sharan, which might put some buyers off. The mid-range diesel offers the best residuals and should be worth 42% of its original purchase price after three years or 36,000 miles.
Ford Galaxy insurance group
Insurance ratings for the Galaxy range from group 16 for the 1.6-litre diesel model to group 26 for the fast 2.0-litre petrol.