How do airbags work?
We explain how airbags work and also give you the lowdown on the Takata airbag recall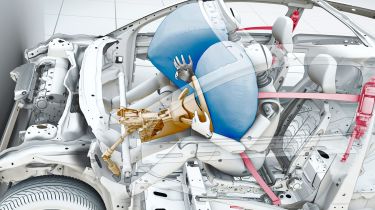 Following the pathway set out by other protective technologies such as anti-lock brakes, electronic stability control and reversing cameras, airbags were first experienced by UK drivers in expensive cars like the Mercedes S-Class, before 'trickling down' to more attainable models. They originated in America in the 1970s as a response to US drivers' reluctance to wear seatbelts, before becoming common in Europe in the 1990s. While airbags were initially meant to work in lieu of seatbelts, today they're designed to work in conjunction with them.
Almost every new car sold in the UK comes with a clutch of airbags. While they're not technically a mandatory piece of kit, any car without airbags would do pretty poorly in its Euro NCAP safety assessments, so to all intents and purposes they're fitted as standard.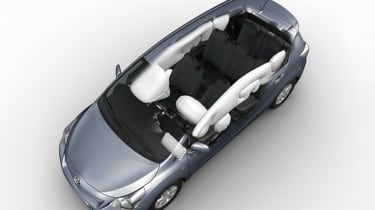 A recent recall means it's worth knowing a little more about airbags. Most of the 50 million or so cars affected have been sold in the US and Japan, although several hundred thousand UK models have also been recalled. We'll go into this in more detail later on.
You can check if your car has airbags by looking out for either the word 'airbag' or the letters SRS (short for Supplementary Restraint System) on the steering wheel, dashboard or elsewhere around the interior. While modern cars come festooned with numerous airbags, early examples were reserved for the driver, before making their way over to the front passenger area and beyond.
How do airbags work?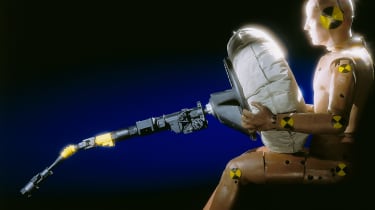 The principle of airbag operation is simple. Impact sensors are dotted around the car and if they detect a collision serious enough to cause injury, they tell the airbag control unit to operate. This ignites a solid propellant roughly the size of an aspirin pill with a hot spark, which generates a large volume of inert gas (primarily nitrogen) to inflate the airbag – itself essentially a nylon fabric sack.
The airbag emerges at about 200mph from seams in the steering wheel (for example), which are split apart and folded harmlessly out of the way by the force of the inflation. Small holes at the back of the airbag let this gas escape and allow it to act as an impact-absorbing cushion, rather than a springy surface off which you could rebound.
All of this takes place in a fraction of a second, allowing the airbag to inflate before you impact with it. If you've ever been involved in a crash serious enough (one that takes place over 10mph or so) for an airbag to deploy, you may have noticed a white chalky residue left over afterwards. This is just harmless talcum powder, which stops the folded airbag sticking together prior to and during inflation. While allergy suffers and asthmatics may experience reactions to some of the chemicals generated when an airbag deploys, this tends to occur only after lengthy exposure.
Where are airbags fitted?
Although some locations are more common than others, almost any surface you can see in a car's interior can be fitted with an airbag.
Partnership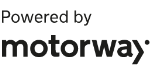 Need to sell your car?
Find your best offer from over 5,000+ dealers. It's that easy.
Driver's airbags: these were first to appear and are mounted within the steering wheel.
Front-seat passenger airbags: as technology developed and costs came down, the front-seat passenger was next in line to benefit, with an airbag fitted to the dashboard.
Side and curtain airbags: these inflate from the side of the seat or the window line to protect your torso and head.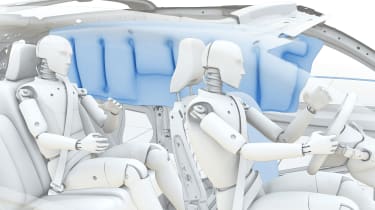 Knee airbags: these are mounted lower down (with a driver's knee airbag emerging from below the steering column) to protect your knees in a collision.
Rear ceiling airbags: a relatively rare item, but the Toyota IQ city car featured an airbag that emerges from the rear windscreen, protecting back-seat passengers from head and neck injuries in the event of a rear impact.
Seatbelt airbags: the Ford Mondeo and Mercedes S-Class are offered with seatbelt airbags, which emerge from the rear seatbelts to spread the impact forces that develop in a collision. To minimise the risk of burns, 'beltbags' are inflated by compressed air, as they don't need to inflate as quickly or as much as other airbags.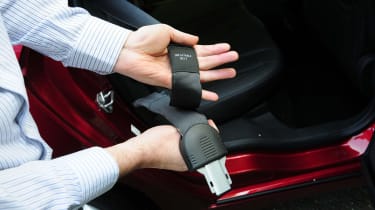 Seat cushion airbags: these push up the front seats, to prevent your hips being pushed below the horizontal seatbelt strap in a collision.
Pedestrian airbags: it's not just a car's occupants who can benefit from airbags. The Volvo V40 and Jaguar XF come with pedestrian airbags, which rise out from under the bonnet, helping minimise injuries for anyone unlucky enough to be hit by the car while on foot.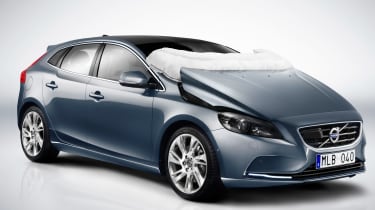 What about airbags and children? I heard they don't mix
Most people know this, but it's so important it bears repeating:
Children in rear-facing child seats should never be put in the front passenger seat of a car without first deactivating the airbag, as it can cause death or serious injury to a rear-facing child if it deploys.
If you must carry a rear-facing child in the front seat of a car, it's imperative that you deactivate the front passenger airbag prior to installing the child seat. Consult your car's handbook to find out how to do this.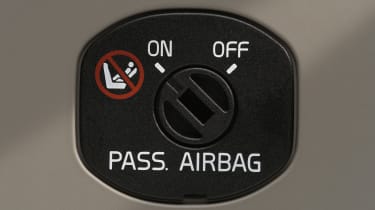 Side, curtain and other airbags offer added protection to all occupants, including children in child seats. Be aware that an airbag can cause injury to occupants of any age if they're not wearing a seatbelt, or if front-seat occupants' chests are nearer than 10 inches (25cm) to the steering wheel or dashboard airbag. Front-seat passengers should also avoid resting their feet on the dashboard.
Do I need to replace my airbag?
Probably not, although this is a bit of a grey area. When airbags started to become commonplace in the 1990s, different carmakers had different policies regarding replacement, as their shelf-life was something of an unknown. Some carmakers recommended fitting a new airbag after 10-15 years, while others advised they should last the life of the vehicle. Today, airbags have proven to be robust and long-lasting, but if you're in doubt you should consult your car's manufacturer for the official line.
What about the recent airbag recall?
In 2013, reports began to surface about problems with airbags from Japanese manufacturer Takata, which has a 20% share of the world's airbag market. Since then, over 50 million cars have been recalled globally, although the majority of these were sold in America and Japan. The problem seems to be caused by moisture getting into affected airbags, which can cause defective deployment.
Making an objective assessment of the biggest recall in automotive history is difficult. There have been a number of deaths and several injuries attributed to faulty airbags deploying in the US – itself an unacceptable statistic. What is fair to say, though, is that given the number of cars involved, very few airbags have actually malfunctioned; this may be cold comfort for those affected and their families, but it's worth pointing out.
In the UK, far fewer cars have been recalled, and those that have been seem to be predominantly Japanese in origin. Cars made by Nissan, Toyota, Mazda and Honda may have faulty airbags, although some BMWs are also known to have been fitted with the malfunctioning component. It's thought that a hot and humid climate plays a part in the problem, partly explaining why no injuries have been reported in the UK.
If you're car needs a new airbag, you should have received a letter informing you of this and offering you a free replacement. If you're at all worried, though, contact your nearest dealer or your car's manufacturer, who'll be able to tell you if your car needs a replacement airbag.
Tesla Cybertruck finally delivered: specs, prices and UK availability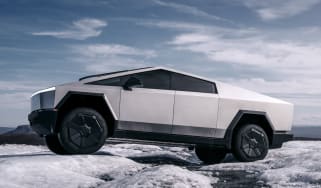 Tesla Cybertruck finally delivered: specs, prices and UK availability
Engine management light: top 5 causes of amber engine warning light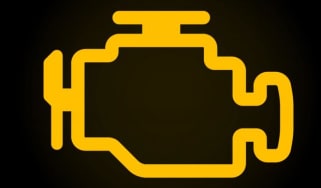 Engine management light: top 5 causes of amber engine warning light
Best new car deals 2023: this week's top car offers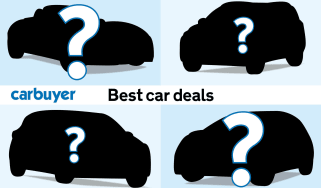 Best new car deals 2023: this week's top car offers