The safety features your next car must have
With a bewildering number of safety systems available, choosing can be tough. Here are the features you should look for on your next car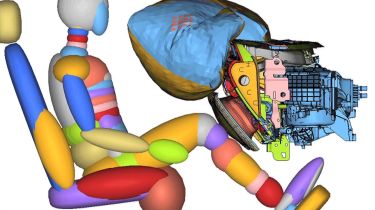 For many drivers, the ability to keep you and your passengers safe is paramount, and never before has there been so much technology available to ensure you stay out of trouble. Much of this equipment is fitted as standard, but depending on the model you're choosing, some features may be optional extras.
Of course, some of these features you'll - hopefully - never need to use, but they could save lives.
With so much technology on offer, knowing what each system does can be confusing – particularly as different manufacturers often have their own names for similar systems. Most modern safety technology falls under the umbrella of Advanced Driver Assistance Systems, or ADAS, and our A-Z (strictly speaking A-T) list explains the most important ones.
Euro NCAP assesses most mainstream cars sold in the UK and while it used to award cars one to five stars to reflect how safe they are, 2016 saw the introduction of a new regime. Under this system, some cars are be awarded two different star ratings.
One set of stars refers to the protection provided by the car in standard form, while the second reflects how safe the car is when fitted with an optional safety pack; these tend to bundle together advanced systems like autonomous emergency braking and a lane-departure warning system, which are two of the features we explain below.
Here are the safety features your next car should have:
Anti-lock-braking system (ABS)
ABS started to appear on high-end cars in the 1980s, but was made a mandatory safety system in 2004. It works by detecting a loss of grip from the wheels when braking, and rapidly releases and reapplies the brakes, helping to keep traction and prevent skidding. Our detailed article on ABS has more information.
Airbags
Airbags are another staple of car safety technology. While they started to appear in America in the 1970s, airbags only became common in the UK in the 1990s. Airbags use sensors to detect an impact, and then deploy a small explosive charge to rapidly inflate a nylon bag, which helps to prevent injuries. While airbags were initially only fitted to steering wheels, nowadays they can be found in every conceivable area of a car's interior, with knee, curtain and even seatbelt airbags becoming increasingly common. Interestingly, fitting airbags is not mandatory under European law – although their omission is virtually unheard of these days.
We've put together a dedicated guide to airbags, which covers how they work and also provides information about a recent recall that's affected millions of cars globally.
Autonomous emergency braking (AEB)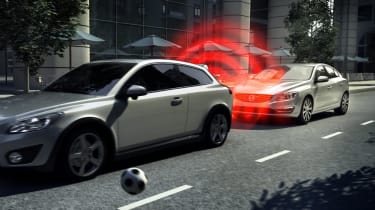 Autonomous emergency braking is a relative newcomer to the list of car safety equipment, but it's becoming increasingly popular, as carmakers strive to meet Euro NCAP's newer, stricter criteria for safety assistance technologies. While individual manufacturers' systems work differently and activate at different speeds, AEB works by using radars or light beams to scan the road ahead and applies the brakes automatically if it detects an imminent collision you haven't taken action to prevent. Many carmakers have proprietary names for their AEB systems; Ford calls it 'Forward Alert', for example, while Audi's system is called 'Pre Sense Front'. Our in-depth guide to AEB has more details on how this technology works.
Blind-spot monitoring (BSM)
Another relatively new piece of safety kit, blind-spot monitoring can be particularly useful when changing lanes on the motorway. It uses sensors (typically mounted to the door mirrors) to detect cars or other vehicles in your blind spot – where they can't be seen in your mirrors. Again, different systems have slightly different features, but blind-spot monitoring typically displays a warning light when a vehicle is in your blind spot, helping to prevent collisions.
Cameras
While blind-spot monitoring uses a sensor to detect hidden cars, cameras are becoming an increasingly common safety feature, too. Reversing cameras were first to appear, and can make parking manoeuvres far safer. Today, many cars feature a series of cameras, which combine to give a 360-degree overhead view of the car during reversing and low-speed turns.
Some cars, like the new Ford Edge, also feature 'split-view' cameras on either side of the front bumpers, to make pulling out of side roads safer by minimising the need to 'peep and creep' at tricky T-junctions. Some high-end cars are even fitted with an infrared night-vision camera, which displays an image on a screen on the dashboard, helping you spot pedestrians and animals when driving in the dark. If you want to know more, check out our detailed article on how cameras can make driving safer.
Cruise control
Cruise control has been around since the 1970s and is now a very common feature. It works by maintaining a steady pre-set speed when activated, while small speed changes (typically one or two mph) can be achieved by pressing a button. While primarily a creature comfort rather than a safety feature, modern 'active' or 'adaptive' cruise control systems use radar to match your speed to that of the vehicle in front, thus maintaining a safe distance.
Partnership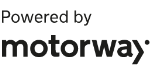 Need to sell your car?
Find your best offer from over 5,000+ dealers. It's that easy.
Cruise control can also work in conjunction with Autonomous Emergency Braking to perform automatic emergency stops. Carmakers that offer these systems tend to use proprietary names: Mercedes refers to its adaptive cruise control system as Distronic Plus, for instance. Whatever they're called and however they work, though, all cruise control systems must automatically deactivate when the brake pedal is pressed. Our dedicated guide to cruise control has more information on this subject.
eCall
The eCall system automatically contacts the emergency services on your behalf in the event of a collision in which the airbags are deployed, although you can also activate it manually. eCall uses GPS data to relay details of your precise location and the direction you were travelling when the crash occurred, while a microphone allows you to speak to call handlers at the other end. All cars sold in the EU from 31 March 2018 must come with eCall, but many carmakers are already offering the system. Head over to our eCall article if you'd like to know more.
Electronic brakeforce distribution (EBD)
Electronic Brakeforce Distribution often works in conjunction with a car's ABS system. While ABS detects a loss of grip, releasing and reapplying the brakes rapidly, EBD additionally detects which wheel has more or less grip, and applies a greater or lesser braking force to that wheel, helping reduce the chance of a skid occurring in the first place.
Electronic stability control (ESC)
Electronic stability control, or ESC, is an evolution of traction control and works in a similar way to EBD, in that it detects a potential skid from the car's wheels. Unlike EBD, which works by varying the braking force applied to each wheel, ESC automatically applies the brakes to an individual wheel if it detects a potential loss of grip. Many ESC systems will also cut the power being sent to a wheel to help stop a skid. ESC (called ASR by some German carmakers) is now mandatory on all cars sold in the European Union. Our dedicated guide to ESC has more details.
Fatigue detection/drowsiness detection
Fatigue-detection systems use sensors to monitor the way you're driving and sound a buzzer and display a warning on the dashboard to recommend you stop for a break if they consider you're tired. Most systems will repeat this warning if you don't stop after 15 minutes or so. Different manufacturers' fatigue-detection systems work in different ways: some analyse your steering inputs, while others monitor your facial expression, looking out for symptoms associated with tiredness.
Head-up display (HUD)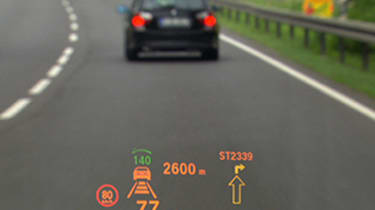 Head-up displays were once the preserve of fighter-jet pilots, but are now increasingly being fitted to cars. HUDs project crucial information (such as your speed and sat nav directions) onto the windscreen. While HUDs may seem like a cool gadget rather than a piece of safety equipment, they improve safety by letting you keep your eyes on the road. Our dedicated guide gives you the heads up on HUDs.
Hill-start assistance
Hill-start assistance prevents a car from rolling back when starting off from an incline, saving you from having to use the handbrake. Sensors in the car detect when you're stopped on a hill and keep the brakes applied until forward momentum is detected. Hill-start assistance systems were once only a feature of cars with automatic transmission, but they're becoming increasingly common on cars with manual gearboxes.
Intelligent light systems
Carmakers are constantly updating and improving their headlight technology. From bright xenon bulbs and LED lights to automatic lights improving your visibility (as well as making you more visible to other road users), all this makes driving in the dark or when visibility is poor safer. Intelligent lighting systems feature lights that 'steer' with the car when cornering, illuminating more of the road. Automatically dimming headlights, meanwhile, activate dipped beam when they sense an oncoming vehicle – reducing the likelihood of dazzling other road users. The new Vauxhall Astra even features 'matrix beam' LED headlights, which allow you to drive with full beam on all the time.
ISOFIX
ISOFIX is a mechanical attachment device that locks a child seat or booster cushion securely to a car's interior. Unlike seatbelt-fastened child seats, ISOFIX seats are nearly impossible to fit incorrectly. An ISOFIX seat or booster cushion offers greater safety in the event of an accident, as it's mechanically attached to the car's bodywork. Our detailed guide to car seat laws has more information, while our top 10 list of the best cars with three ISOFIX points is worth a read if you have a larger family. All cars sold in the EU must come with ISOFIX anchor points.
Lane-keeping assistance/lane-departure warning
Lane-departure warning works in one of two ways: the most basic systems use a camera, laser or infrared sensor to watch road markings and detect if you stray from your lane (or side of the road) without indicating. If they sense this, they alert you either by a warning buzzer, vibrating seat or steering wheel. More advanced lane-departure warning systems will automatically steer you back into your lane if you fail to take appropriate action.
Pop-up bonnets and bonnet airbags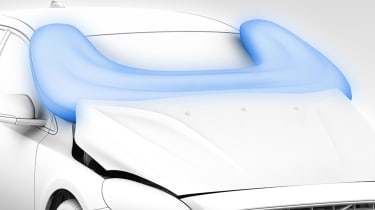 Pop-up bonnets are designed with pedestrian safety in mind and work in a variety of ways. The 'active bonnet' fitted to the Jaguar XF and Mazda MX-5 automatically rises if it detects a pedestrian impact, providing clearance between the bonnet and engine, effectively allowing the bonnet to cushion any impact. The Volvo V40 takes this one stage further: in the event of a pedestrian collision, the car's bonnet rises and deploys a large airbag that comes out from under the bonnet, covering the windscreen and its pillars.
Post-collision braking
Post-collision braking systems automatically apply the brakes after a crash has occurred, preventing you from being shunted further down the road. This is particularly useful on busy roads. Say, for instance, you're unlucky enough to be hit from behind: a post-collision braking system will reduce the likelihood of a 'chain-reaction' accident where your car strikes the car in front. Many cars from the Volkswagen Group, including Audis, SEATs and Skodas, have pioneered this system.
Rear cross-traffic alert (RCTA)
Rear cross-traffic alert systems work in a similar way to blind-spot monitoring. They use sensors mounted to the back of the car that activate when you select reverse. If the system detects an approaching vehicle, it sounds a warning. While RCTA is useful, it does have its limitations: if you're reversing out between two parked cars, RCTA may struggle to detect approaching cars; while motorcycles can also be hard for these systems to detect.
Seatbelts
Aside from brakes, seatbelts are the oldest safety feature around. They were originally proposed in the 19th century for horse-drawn carriages, but Volvo invented the ubiquitous three-point seatbelt in 1959. Interestingly, it left the design 'patent open', meaning other carmakers could use three-point seatbelts without having to pay a license fee.
While the overall design has remained largely unchanged for over 50 years, it continues to evolve. Seatbelt reminder systems are now mandatory fitment items, while pre-tensioners (which tighten the seatbelt automatically in the event of an accident) were introduced in the 1980s and 90s. The Ford Mondeo can even be ordered with inflatable seatbelts, which are intended to reduce injuries in the event of an impact.
Speed limiter
Programmable speed limiters are intended to prevent drivers from driving too fast or breaking the speed limit. When a speed limiter is activated, the car won't exceed the pre-set speed; although in the interests of safety, pressing hard on the accelerator will override the system.
Traction control system (TCS)
While traction control was once a standalone safety feature, today it has largely been absorbed by electronic stability control. Traction control uses wheel-mounted sensors to detect a loss of grip, then applies the brakes and/or cuts power to the affected wheels. Check out our guide to ESC to find out how traction control works with this system.
Traffic-sign recognition (TSR)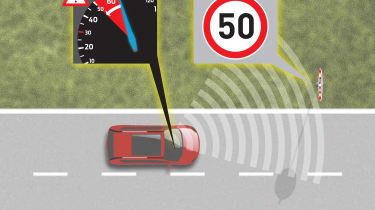 Traffic-sign recognition uses a camera, together with character-recognition software, to 'read' road signs. This information is then shown on a dashboard display, helping you stick to the speed limit without having to search for a sign. As this is a relatively new technology, most TSR systems will only read speed-limit signs, but newer versions can detect overtaking restrictions, too.
Tyre-pressure monitoring system (TPMS)
Tyre-pressure monitoring is pretty self-explanatory. Sensors monitor the inside of each tyre, and alert you if the air pressure drops to a dangerously low level. TPMS is another piece of safety equipment that's mandatory on all cars sold in the EU.
Tesla Cybertruck finally delivered: specs, prices and UK availability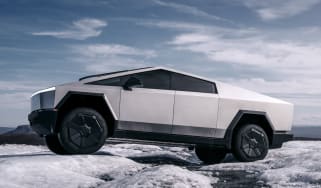 Tesla Cybertruck finally delivered: specs, prices and UK availability
Engine management light: top 5 causes of amber engine warning light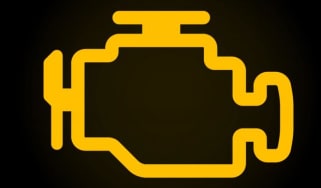 Engine management light: top 5 causes of amber engine warning light
Best new car deals 2023: this week's top car offers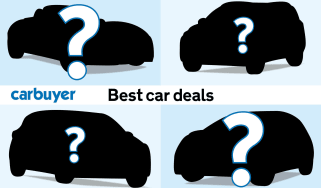 Best new car deals 2023: this week's top car offers